Circle of Friends Gala Raises Over $370,000 For
Kidspace Children's Museum
Kentucky Derby-themed event drew over 390
Published Pasadena Now Thursday, February 10, 2011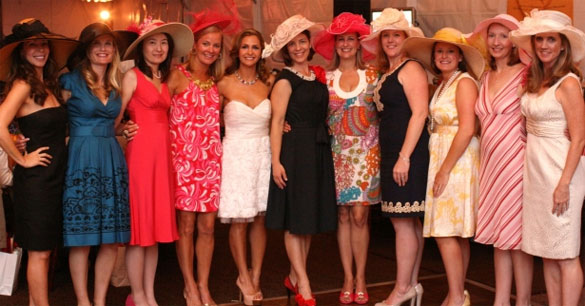 Circle of Friends Board (from left to right): Sharie Chandra, Emilie Lanstra, Masami Robson, Anne Ryan, Shiraz Fagan, Laura Thompson, Ceinwyn Clark, Dawn Denison, Sara Vanis, Jill Dennis, Paige HobeyKidspace Children's Museum's volunteer support organization, the Circle of Friends, has announced it raised more than $370,000 at its annual fundraiser on February 5, 2011 at the Parkway Grill in Pasadena.
Net proceeds from the event, called The Winner's Circle: Jockeys, Jewels and Juleps in Celebration of Kidspace, will support interactive experiences in the arts, sciences, and humanities at the museum.
Nearly 400 guests arrived decked out in Kentucky Derby attire and were greeted by Santa Anita's official horn blower, Jay Cohen. Hall of fame jockey Chris McCarron acted as Honorary Chair and Southern California broadcasting icon Fritz Coleman was the celebrity auctioneer.
An exciting live auction followed dinner, with unique items such as Jane Dempsey's Kentucky Derby Tours all-inclusive trip to the Kentucky Derby and Oaks, a luxurious golf, spa and villa package at Pelican Hill, a closed-set visit to Wipeout and artwork by famed equine artist Fred Stone. Over 100 guests raised their paddles to donate directly to Kidspace, raising over $38,000 in a matter of minutes. "Kidspace makes a difference in the lives of so many children, and we are incredibly grateful to everyone who generously supported the event," added Vanis. The crowd danced to southern rock, and all guests took home Derby-themed gift bags. Since 1991, the Circle of Friends has donated more than $3 million to Kidspace, providing critical financial resources for the operation of the museum.