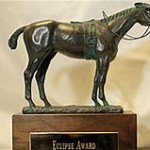 The National Thoroughbred Racing Association, Daily Racing Form and the National Turf Writers and Broadcasters today announced the winners of the 2020 Media Eclipse Awards in six categories. This year's awards are highlighted by Natalie Voss, Editor-in-Chief of the Paulick Report, becoming the first individual to win two writing award categories in the same year since the late Bill Nack earned two awards in 1991.
The 2020 Media Eclipse Award winners are as follows:
Feature/Commentary Writing – Natalie Voss, Paulick Report "'An Angel On His Shoulder': This Thoroughbred's Fate Was Written In Ink," May 13, 2020.
News/Enterprise Writing – Natalie Voss, Paulick Report – Multi-part Series: "A Decade In, How Are We Doing With Thoroughbred Aftercare?" Dec. 2, 2019; "Emptying The Ocean With A Teaspoon: The Challenges Of Aftercare," Dec. 3, 2019; and "Aftercare Should Not Be An Afterthought: Solutions For The Future," Dec. 4, 2019.
Television – Live Racing Programming – NBC Sports, "The Breeders' Cup World Championships," Nov. 7, 2020; Billy Matthews and Lindsay Schanzer, producers.
Television – Features – NBC Sports "Riders Up: The World's First Sports Bubble," Oct. 2, 2020 on NBCSN; Produced by the Hennegan Brothers.
Audio/Multi-Media Internet – Thoroughbred Daily News (TDN) "To Hell and Back: Belmont Marks A Deserved Triumph for New York City," Joe Bianca, writer and narrator, Patty Wolfe, producer.
Photography – Alex Evers, Paulick Report "A Derby Without Fans," Sept. 21, 2020.
Entries were accepted for 2020 Media Eclipse Awards consideration for works which appeared from Nov. 17, 2019 to Nov. 20, 2020.
Judges in the category were Mark Abraham, freelance photographer and currently deputy director of the United States Senate Press Photographers' Gallery; Rob Carr, staff sports photographer with Getty Images; and Mike Kane, veteran Thoroughbred journalist and photographer.
The 2020 Eclipse Awards ceremony will be a virtual event. It will be televised live on TVG and streamed on other outlets on Thursday, Jan. 28 at 7:30 p.m. ET.
In addition to Spendthrift Farm, Eclipse Awards sponsors include Keeneland, Roberts Communications, Four Roses Bourbon, Daily Racing Form, Breeders' Cup, FanDuel, The Stronach Group, TVG, Dean Dorton, Jackson Family Wines, Rood & Riddle Equine Hospital, and Hallway Feeds.
Comments