Kentucky Derby Tours Press Coverage
You don't just "see" the Kentucky Derby – you become a part of it! Enjoy this selection of the many newspaper and magazine articles below that have chronicled the history of our Kentucky Derby Tours.

Jane Dempsey's Kentucky Derby Tickets and Tours Helps Circle of Friends Gala Raise Over $370,000 For Charity
Newport Beach, CA (PRWEB) March 22, 2011
---
Kidspace Children's Museum – Kentucky Derby-themed event drew over 390
Re-printed by permission of Pasadena Now – Thursday, February 10, 2011
---
Cementing their Place in Derby Lore
"These guys left their prints all over the race" By C. Ray Hall Re-printed by permission of the Louisville Courier Journal, May 1, 2008
---
Greenfield Man looks back on his Derby Days
by Paul Post Re-printed by permission of The Saratogian, May 3, 2008
---
King For A Day
Ray York aboard Determined in the Winners Circle at the 1954 Kentucky Derby Re-printed by permission of The Voice-Tribune, Louisville, Kentucky, originally published in their May 2, 2007 issue
---
Oldest living Derby-winning jockey returns 70 years after victory
The oldest living jockey to win the Kentucky Derby is back in town hoping to figure out something that has bugged him for years. originally published in the Sporting News May 13, 2006
---
Return to history Oldest living Kentucky Derby winner will be honored
April 27, 2006
---
Let's Go to the Races
"Fans create excursions to enable themselves and others to witness the world's most famous races" by Bill Heller originally published in the Thoroughbred Times, March 2, 2002, courtesy of Bill Heller
---
Two articles commemorating the Junket's Golden 50th Anniversary:
On Derby Rail
No Longer by Train, the Dempsey Junket "Still Going Strong at 50" by Bill Christine, Times staff writer courtesy Los Angeles Times, April 29, 1996
Californians Keep Coming
"Tradition Goes Back 50 Years For This Group" by Kimberly N. Martin Herald-Leader staff writer courtesy Lexington Herald-Leader, May 5, 1996
---
A Month of Mays in Louisville
"The Times' Bill Christine has seen a lot in 30 years at the Kentucky Derby" by Bill Christine, Times staff writer courtesy Los Angeles Times, April 27, 1998
---
Kentucky Derby Memories are on display at the Kentucky Derby Museum
Courtesy of the LA Times – April 26, 1987 UPI
---
The May 12, 1958 issue of Life featured Kentucky Derby Junket's founder Jack Dempsey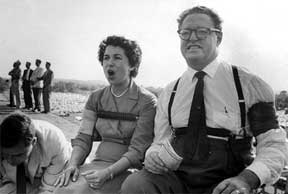 Bad Day for Silky, Worse for Silky's Fans
"They have an agonizing letdown as their hero is 12th in Derby" courtesy Life magazine, May 12, 1958
---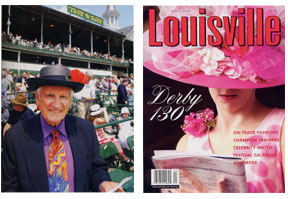 Kentucky Derby Junketeers
Mr. Howard Hammer, one of our fashionable junketeers who participated in the 2003 Kentucky Derby, was featured in the April 2004 edition of Louisville magazine.