Greenfield Man looks back on his Derby Days
By Paul Post
Re-printed by permission of The Saratogian, May 3, 2008
GREENFIELD — Dave Erb and Milo Valenzuela go way back. Fifty years to be exact.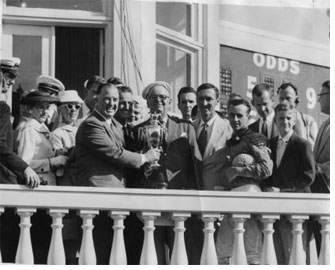 This week they were reunited in a Louisville, Ky. "Gallup to Glory" exhibit paying tribute to all Kentucky Derby winning jockeys.
Erb, 84, who lives in Greenfield, rode Needles to victory in the 1956 "Run for the Roses," earning him a permanent place in racing lore. "I had one horse beat going down the back side," he recalled of his history-making feat in the 17-horse field. At the half-mile pole, Needles finally caught up to the pack.
"They just opened up and I got in the clear," Erb said. "That doesn't happen very often. I didn't get the lead until the 16th pole. I caught Fabius (with Bill Hartack up) and went by him. Invariably, in the Derby, there's a world of speed. If you run with a come-from-behind horse, you've got to have a lot of luck."
As fate would have it, the '56 Derby turned out to be Erb's last, although he trained Helio Rise for the '71 race.
In 1957, Erb rode Iron Leige in a Derby trial, won by a horse named General Duke with Hartack in the saddle again. Both horses belonged to Calumet Farm, but General Duke wound up lame after the race.
Two days before the Derby, Erb still thought he was riding Iron Leige when a sportswriter stopped him near the Churchill Downs jockeys' room.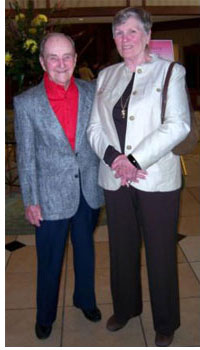 "Damn Dave, I'm sure sorry," the scribe said.
"What do you mean?" Erb said.
"You don't know, do you?" the writer said.
That's how Erb found out that Calumet had chosen Hartack to ride Iron Leige instead of him, with no explanation at all.
The next year, 1958, Hartack was expected to have Tim Tam in the Derby when the jockey suffered a broken bone in his leg and couldn't make the race. He and Erb both rode for Calumet, so Erb seemed to be the logical choice as Hartack's replacement, but once again he was passed over, this time in favor of Valenzuela.
Iron Leige and Tim Tam both won their respective Derbys, so Erb can only wonder about what might have been, if he'd been given the chance to repeat his 1956 ride to glory.
"I rode for 10 years without any success at all," he said.
Twice before, with a pair of longshots, he finished far back in the Derby knowing both times that he probably wouldn't be in the money. His agent told him the mounts weren't very good, but Erb said, "Man, I want to be in that big show! I want to be on that stage!"
The experience in those two prior races might have made the difference when his big moment came and Erb definitely made the most of it.
"A lot of people ask me, 'What are you thinking about when you're headed down the stretch, with all those people screaming?' " he said.
Only one thing comes to mind. "Riding my ass off," he said, laughing.
After winning a pair of prep races, the Flamingo and Florida Derby, Needles was an 8-5 Kentucky Derby favorite. The latter race, however, was a full six weeks before the annual Run for the Roses.
"Hugh Fontaine (trainer), he always felt that the horse ran better fresh," Erb said.
But in this case, Needles was too strong. His final workout was on a Friday, eight days before the Derby, a nice cool day that would have been perfect for a strenuous gallop, allowing the horse to blow off steam and return to the barn refreshed and relaxed.
"We wanted to get him tired," Erb said. "That would set him up good for the Derby. But Mr. Fontaine said, 'I promised the press I'd work him out on Saturday.'
"I said, 'To hell with the press.' But he insisted." The next day was hot and Needles put up a fuss. "God it was hot," Erb said. "His last workout before the Derby was a stinker. He just wasn't worth a damn." Still high-strung and full of energy, Needles used up everything he had in the Derby.
"I was looking for that finish line," Erb said. "Where the hell is that finish line? He was getting really weak. That's why he didn't win the Triple Crown. When he got to the Preakness he was dead."
Fabius won the second leg of the Triple Crown, beating Needles by about three-quarters of a length. But Erb's mount came back to capture the Belmont Stakes and was later named top 3-year-old of the year. At age 2, he'd won The Hopeful at Saratoga.
"I got more publicity out of Needles than any horse I ever rode," Erb said.
Needles' father, Ponder, and grandfather, Pensive, won the Derby in 1949 and 1944, respectively, making Needles a third-generation winner. All three are in the racing Hall of Fame.
Still, Erb considers Hall of Famer Swaps the greatest horse he ever rode. Swaps won the Kentucky Derby in 1955, but his handlers elected not to enter him in the Preakness or Belmont Stakes. Instead, they put him in the California Stakes, where Erb guided him to a world record for a 1-1/16-mile race.
During his career (1938-59), Erb rode two other Hall of Fame horses — Swoon's Son and Searching, a filly. Swoon's Son won 30 of 51 starts including 22 stakes races and had $970,605 in lifetime earnings.
"So he belongs in the Hall of Fame," Erb said. "He only won four $100,000 races. Most of them were for $25,000, $50,000 or $75,000. In this day and age, he would have been well up into the millions."
With Searching, Erb won the Galorette Stakes at Pimlico.
Recently, Valenzuela was elected to the Hall of Fame, and he's expected to be on hand for the Aug. 4 ceremonies in Saratoga Springs. Erb, Valenzuela and fellow jockey Braulio Baez were each honored at Wednesday's "Gallop to Glory" ceremonies at Louisville's Galt House, where jockeys put their hand prints and signatures in cement. Baez won the '63 Derby aboard Chateaugay.
The tribute now includes a total of 30 Derby-winning riders.
The exhibit is organized by California's Jane Dempsey in cooperation with the Galt House. Dempsey's family has been leading travel tours to the Derby, called Kentucky Derby Junkets, for 62 years.
This week's return marked Erb's first visit to the race in many years, but his achievements will never be forgotten. "It was a thrill just to ride in the Derby," he said.