$18 Million in modernizing at Churchill Downs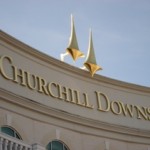 Churchill Downs Racetrack, home of the Kentucky Derby has announced an extensive $18 million capital project to modernize the Turf Club and several other premium areas.
The changes include:
Enlarging the Stakes Room on the fourth floor of the Clubhouse will combine the current Stakes Room, Aristides Room, Directors' Room and Turf Club Lounge into a new, spectacular open space.
The third floor Turf Club, Matt Winn Dining Room and Indoor Premium Boxes will undergo a facelift to create an updated and more intimate premium area. As guests arrive at the racetrack, they'll immediately notice reconfigured express entries from Gates 10 and 17 including two exclusive Turf Club Express elevators and enlarged and repositioned arrival and welcome areas. The food and beverage experience also will be greatly enhanced with an enlarged customer-facing U-shaped bar and lounge area.
The Turf Club Draftsman Balcony will be enhanced with a newly-constructed Balcony that will feature booth and table seating beneath a translucent canopy with a spectacular vantage point of pre-race activity in the Paddock.
The new Turf Club Roses Lounge will be located on the third floor of the Clubhouse adjacent to the Turf Club in the space previously occupied by the Matt Winn Dining Room. This 4,700-square-feet space will feature a new bar, banquette seating and individual dining tables, including 12 signature banquette tables that honor and tell the story of each Triple Crown winner and a Champions Wall with plaques dedicated to each Kentucky Derby winner.
Turf Club Boxes (formerly the Indoor Premium Boxes) will be remodeled with classic white timber and seating for 6-10 guests – banquette-style upholstered seating in the back and comfortable padded chairs in the front.
The Directors Room, currently situated on the fourth floor of the Clubhouse, will be relocated to the third floor in a newly-constructed space above the Gate 17 entrance.
Clubhouse Balconies will have premium seating added to the fourth and fifth floor balconies.
Edited press release from Churchill Downs.
Comments