2015 Kentucky Derby Betting Pool #3 and only Kentucky Oaks Pool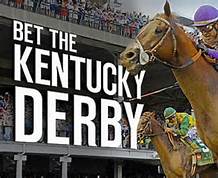 Churchill Downs has announced the field for this weekend's 2015 Kentucky Derby Future Wager Pool 3 along with the only 2015 Kentucky Oaks Future Wager pool.
The Derby future bet for Pool #3 includes 23 individual horses and a mutuel field which encompasses all other 3-year-olds. The wager is designed to give handicappers potentially a bigger price than they might get on Derby Day May 2 at Churchill Downs. Betting begins at noon Friday and runs through 6 p.m. ET Sunday for the Derby wager and ends at 6:30 p.m. ET Sunday for the Oaks.
The mutuel field as usual is the favorite, this time at 5-2. Bob Baffert trains the 8-1 co-favorites among individual horses with 2-year-old champion American Pharoah and unbeaten Robert B. Lewis winner Dortmund.
The field of all other 3-year-old fillies is the 3-1 morning-line favorite for the Oaks wager, with 2-year-old filly champion Take Charge Brandi the 6-1 favorite among individual horses.
As with any of the future pool wagers, there is no refund if a horse included in the bet doesn't make it to the Derby. However, wagering will be suspended immediately on an individual horse offered in a pool if Churchill Downs determines that injury, illness or other circumstance revealed during the wagering period will prevent the horse from competing.
Odds by Mike Battaglia.
Kentucky Derby Future Wager – Pool 3
# horse (trainer) last race odds
1. American Pharoah (Baffert) 1st G1 FrontRunner 8-1
2. Bolo (Gaines) 1st Eddie Logan (turf) 50-1
3. Carpe Diem (Pletcher) 2nd Breeders' Cup Juvenile 12-1
4. Danzig Moon (Casse 1st Gulfstream maiden 50-1
5. Daredevil (Pletcher) 11th Breeders' Cup Juvenile 30-1
6. Dortmund (Baffert) 1st G3 Robert B. Lewis 8-1
7. El Kabeir (Terranova) 2nd G3 Withers 30 -1
8. Far From Over (Pletcher) 1st G3 Withers 15-1
9. Far Right (Moquette) 1st G3 Southwest 20-1
10. Firing Line (Callaghan) 2nd G3 Robert B. Lewis 20-1
11. International Star (Maker) 1st G2 Risen Star 20-1
12. Itsaknockout (Pletcher) 1st G2 Fountain of Youth on DQ 20-1
13. Keen Ice (Romans) 3rd G2 Risen Star 50-1
14. Khozan (Pletcher) 1st Gulfstream allowance 15-1
15. Lord Nelson (Baffert) 1st G2 San Vicente 30-1
16. Mr. Z (Lukas) 3rd G3 Southwest 50-1
17. Ocean Knight (McLaughlin) 1st G3 Sam Davis 15-1
18. Ocho Ocho Ocho (Cassidy) 1st Delta Downs Jackpot 20-1
19. Prospect Park (Sise) 1st Santa Anita allowance 30-1
20. Texas Red (Desormeaux) 2nd G2 San Vicente 12-1
21. The Great War (Ward) 1st 96Rock 30-1
22. Upstart (Violette) 2nd (DQ from 1st) Fountain of Youth 15-1
23. War Story (Amoss) 2nd G2 Risen Star 30-1
24. All other 3-year-olds 3-1
Kentucky Oaks Future Wager
# horse (trainer) last race odds
1. Angela Renee (Pletcher) 4th G3 Rachel Alexandra 30-1
2. Birdatthewire (Romans) 2nd G2 Davona Dale 20-1
3. Callback (Baffert) 1st G1 Las Virgenes 12-1
4. Condo Commando (Rodriguez) 1st Busher 8-1
5. Cristina's Journey (Romans) 7th G2 Golden Rod 30-1
6. Ekati's Phaeton (Kaplan) 1st G2 Davona Dale 20-1
7. Eskenformoney (Pletcher) 3rd G2 Davona Dale 20-1
8. Fantastic Style (Baffert) 1st Santa Anita maiden 30-1
9. Feathered (Pletcher) 2nd G1 Starlet 20-1
10. Forever Unbridled (Stewart) 3rd G3 Rachel Alexandra 30-1
11. I'm a Chatterbox (Jones) 1st G3 Rachel Alexandra 8-1
12. Light the City (Hollendorfer) 2nd G1 Las Virgenes 30-1
13. Lovely Maria (Jones) 2nd G3 Rachel Alexandra 30-1
14. Luminance (Baffert) 1st Del Mar maiden 50-1
15. Oceanwave (Catalano) 1st Oaklawn allowance 50-1
16. Perchance (McLaughlin) 1st Gulfstream allowance 30-1
17. Puca (Mott) 4th G2 Davona Dale 20-1
18. Sarah Sis (Mason) 2nd Martha Washington 30-1
19. Sensitively (D'Amato) 1st Santa Anita maiden 50-1
20. Shook Up (Asmussen) 5th G3 Rachel Alexandra 30-1
21. Sweet Corine (McGaughey) 1st Gulftstream maiden 30-1
22. Take Charge Brandi (Lukas) 1st Martha Washington 6-1
23 Wonder Gal (Gyarmati) 3rd Breeders' Cup Juv Fillies 50-1
24. All other 3-year-old fillies 5-2
Tags: American Pharoah, Bolo, Carpe Diem, Churchill Downs, Danzig Moon, Daredevil, Derby Day, Dortmund, El Kabeir, Far From Over, Far Right, Firing Line, horses, International Star, Itsaknockout, Keen Ice, Kentucky Derby, Kentucky Oaks, Khozan, Lord Nelson, Mr. Z, Ocean Knight, Ocho Ocho Ocho, Prospect Park, Texas Red, The Great War, Upstart, War Story
Comments