30 years of the Kentucky Derby Museum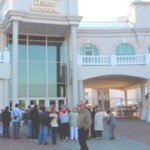 The Kentucky Derby Museum told us by press release that they will commemorate their 30th anniversary in 2015, with a celebration to last all year long with a series of special events and festivities. In addition to the fun of being 30 and just hitting our stride, the Museum bids farewell to longtime President Lynn Ashton, who will retire this upcoming September.
Guests will have an opportunity to take a trip back in time, as the Museum will host a special "Rollback Day" April 11. Price of admission will be dropped to $2.50, equaling the cost when the doors originally opened in 1985. Along with the discounted entrance fee, visitors will be treated to two exclusive unveilings: a 30th anniversary commemorative bourbon bottle of Woodford Reserve Distiller Select and the 30th anniversary commemorative Louisville Stoneware Collection, which consists of a platter, bowl, mug and mint julep cup. Other happenings include a build-your-own Derby hat activity for children and membership event.
Also opening April 11 is the Museum's newest temporary showcase, "Stars of the Stands." The two-year exhibit will be broken into different eras to show how fame and celebrity transformed the Kentucky Derby into an iconic event. The first season will highlight the celebrities who were involved in horse racing and attended the Derby from its infancy to 1974, while the second will feature a more current flavor of Hollywood's biggest stars visiting Churchill Downs from 1975 to present day.
Ashton will officially relinquish her position as president Sept. 30, with the Museum Board of Directors overseeing a search for her replacement. Since taking over in 1995, Ashton has directed a 10,000 square foot addition to the Museum's first floor, managed a $10 million complete overhaul and insurance claim after a 2009 flood destroyed much of the building's infrastructure and initiated the Backside Learning Center, a learning center for workers on the backside of Churchill Downs.
Comments