Bash at the Beach set for November 3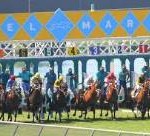 Thoroughbred Charities of America will host a fundraising event entitled "Bash at the Beach" on Friday, November 3 from 5:30 p.m. – 10 p.m. at Powerhouse Park in Del Mar, Calif. The evening will feature live music by Haute Chile, Cali-Baja style fare, signature cocktails, and a handicapping discussion with Daily Racing Form's Mike Watchmaker and Peter Fornatale. A live auction of racing memorabilia and experiences will be offered. The event will be held at the to-be-constructed oceanside venue, the Barn at the Beach, which will host a variety of Breeders' Cup events throughout the week and is conveniently located minutes from the track.
Limited general admission tickets are still available for $100 and can be purchased at tca.org. VIP tickets are sold out.
Bash at the Beach is made possible by generous sponsors including Valenti International matchmaking, the music, hors d'oeuvres, signature drink, and VIP Lounge sponsor. Additional sponsors include Abbondanza Racing, Herringswell Stables, Chanceland Farm, Jackson Family Wines, Tito's Vodka, Maker's Mark, Breeders' Cup, Daily Racing Form, BloodHorse, Thoroughbred Daily News, and the Thoroughbred Owners and Breeders Association.
The mission of Thoroughbred Charities is to provide a better life for Thoroughbreds, both during and after their racing careers, by supporting qualified repurposing and retirement organizations and by helping the people who care for them.
TCA is a charitable organization that provides grants to non-profit organizations that work toward improving the lives of Thoroughbred racehorses and the people who care for them. TCA offers the Thoroughbred industry and its supporters a way to give to one organization while helping many.
TCA distributes grants to four types of organizations:
•Thoroughbred rehabilitation, repurposing, rehoming and retirement
•Backstretch and farm employee programs
•Equine-assisted therapy programs that utilize Thoroughbreds
•Equine research
TCA at a Glance
•TCA is a charitable organization which follows a "United Way" methodology, providing the Thoroughbred industry and its supporters a way to give to one organization while helping many.
•Over the past 27 years TCA has provided over $22 million grants to more than 200 Thoroughbred-related organizations.
•TCA's Board of Directors consists of some of the most knowledgeable and respected people in the Thoroughbred industry.
TCA is a 501 (c) (3) organization.
Comments