Derby Poker Party on May 1 to benefit Thoroughbred Charities of America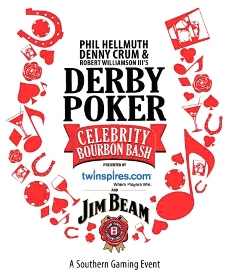 Southern Gaming Magazine announced today via press release that Thoroughbred Charities of America (TCA) has been selected as one of two charitable beneficiaries of the Derby Poker Celebrity Bourbon Bash, sponsored by Jim Beam and Twinspires.com. The party and poker tournament will be held on Thursday, May 1 at the Olmsted in Louisville, Ky. and will be hosted by Hall of Fame coach Denny Crum and poker professionals Phil Hellmuth, Jr. and Robert Williamson, III. Louisville-based Blessings in a Backpack has also been selected as a beneficiary. Kentucky Derby week and horse racing fans should enjoy this event.
Formally known as the Derby Poker Championship, the event has become a must-attend Derby party that attracts an array of celebrities, athletes, jockeys, poker professionals and race fans looking to kick-off the Derby weekend in-style.
"The Derby Poker party has grown into the staple Oaks Eve event for celebrities and Derby guests," said G. Douglas Dreisbach, event producer and general manager of Southern Gaming. "Our goal is to have a first-class event while raising funds and awareness for our beneficiary charities."
"We are thrilled to be a charitable partner of Southern Gaming's annual Derby Poker event," said Erin Crady, executive director of TCA. "As a charitable organization that operates exclusively on donations, we are deeply appreciative of this opportunity."
The all-inclusive event offers guests a variety of bourbon themed food stations, sampling areas, premium open bars, a celebrity poker tournament and Jim Beam's Party Lounge, an area featuring a dance floor, seating and a premium bar.
"Poker and horse racing go great together," commented poker tournament emcee Phil Hellmuth, Jr. "Last year we had the best party in Louisville on Thursday night with tons of celebs, music, a dance floor, a charity poker tournament and more. This year will be even bigger!"
Past year's celebrity attendees have included:
Jane Seymour (Actress), Jennifer Tilly (Actress), Ron White (Comedian), William Fichtner (Actor), Vicki Gunvalson (Real Housewives of Orange County), Nora Roberts (Best-selling author), Oscar Nunez (Actor), Warren Moon (retired NFL Player), Corey Pavin (Pro golfer), Troy Hanson (Indy Car Driver), Bob Guiney (The Bachelor), Ken Davitian (Actor), Scot Pollard (NBA Player), Jennifer Elise Cox (Actress), Robby Albarado (Jockey), Corey Lanerie (Jockey), Chris 'Jesus" Ferguson (Poker pro), Antonio Esfandiari (Poker pro), Phil Laak (Poker pro), Layne Flack (Poker pro), Josh Arieh (Poker pro), Tiffany Michelle (Poker pro), Dan Shak (Poker pro), and Beth Shak (Poker pro).
Tickets are $100 thru April 1, $150 through April 25 and $200 thereafter. The poker tournament is open to the public with a buy-in of $550 and includes full access to the rest of the event.
Tickets and poker buy-ins can be purchased at derbypokerchampionship.com. The event is produced by Southern Gaming and Destinations, the South's largest regional gambling magazine that also specializes in promotions, events and marketing for the gaming industry and is a division of Louisville-based Bisig Impact Group.
Tags: Antonio Esfandiari, athletes, Beth Shak, Blessings in a Backpack, Bob Guiney, celebrities, Chris 'Jesus" Ferguson, Corey Lanerie, Corey Pavin, Dan Shak, Denny Crum, Derby party, Derby Poker Celebrity Bourbon Bash, Derby Poker Championship, Jane Seymour, Jennifer Elise Cox, Jennifer Tilly, Jim Beam, Jim Beam's Party Lounge, jockeys, Josh Arieh, Ken Davitian, KY, Layne Flack, Louisville, May 1, Nora Roberts, Olmsted, Oscar Nunez, Phil Hellmuth, Phil Laak, poker professionals, race fans, Robby Albarado, Robert Williamson, Ron White, Scot Pollard, Southern Gaming Magazine, Thoroughbred Charities of America, Tiffany Michelle, Troy Hanson, Vicki Gunvalson, Warren Moon, William Fichtner
Comments