Gary Stevens to return to riding after 2014 Breeders' Cup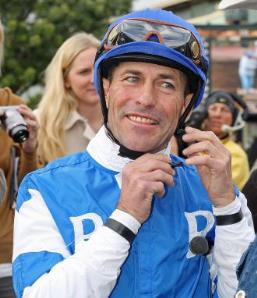 Jockey Gary Stevens has won the Kentucky Derby, the Preakness Stakes, the Belmont Stakes, and the Breeders' Cup races mutliple times. He retired and became a TV commentator for NBC but always wanted to ride again. New surgery methods should make that possible.
Stevens had his right knee replaced in an operation conducted last July 25 in a specialized clinic in Santa Monica, Calif.
His physical therapy sessions went from pain to fitness. He soon walked, tested his golf swing, and climbed stairs just for the fun of it. He hoped to be back riding in time for the Breeders' Cup Championships at Santa Anita Park.
"I've been doing every normal activity I'd done in the past, except even better," Stevens said earlier this week. "My doctor told me I was way ahead of schedule on everything and it looked great. Then I showed him a video of me on my Equicizer."
The Equicizer is a mechanical horse of sorts invented by former jockey Frank Lovato Jr. that lets a rider simulate the posture and physical intensity of finishing a race on the back of a Thoroughbred. Injured jockeys use it for rehab. Active jockeys use it for fitness and warm-ups.
But first Gary needed an OK from his doctor. After talking to his doctor, it was decided to hold off on his comeback for 2 more months. That would make it after the Breeders' Cup.
"I even had a couple of horses offered to me to ride in the Breeders' Cup," Stevens said. "It was a long drive home with my wife, Angie, and not much said. It made me take a pull back and think more like Richard Mandella does with his horses – what's the rush?"
Part of the process of a knee replacement, at least in Stevens's case, requires complete healing of the attached femur which usually takes about 12 weeks to heal.
"The adrenalin was really pumping, telling my body what I needed to do to make it back for the Breeders' Cup, so there was a letdown physically as well as emotionally," Stevens said. "I can go back to getting on horses if I want in a week to 10 days, and I'll take things at my own speed. My go date is now Dec. 26."
What a coincidence – Santa Anita Park opening day!
Comments