Goodbye Yellow Brick Road – A childhood memory of Hollywood Park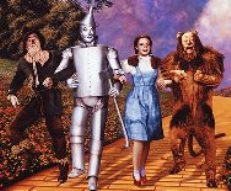 With all the recent articles that I have read about the closing of Hollywood Park, I thought it might be cathartic for me to write down at least one memory of Hollywood Park that sticks in my mind.
Top of my list has to be something that has nothing to do with horse racing. As a child, I went to Hollywood Park often with my parents and when the races ended, many people would gather in the Turf Club area for drinks and snacks. From that vantage point, you could watch the parking lot clear out and leave after others had gone. Or maybe it was just an excuse to continue a fun day.
Back to the story – I was used to seeing movie and TV stars there – Cary Grant, Elizabeth Taylor, Jimmy Stewart, Desi Arnaz, Vince Edwards, and John Forsythe (who sang Happy Birthday to me – but that is another story). Many of us grew up seeing the movie 'The Wizard of Oz' and I was no exception. I looked up and there he was – The Scarecrow! I think I just sat there with my mouth open. But I must have very loudly said something as I recall my parents saying "shush". Whatever I said, Ray Bolger got up and came over and said hello to me.
I blubbered out how much I liked his dancing and he asked if I would like to dance. To this day, it is a still a blur to me. I can remember him asking if I wanted to go see the Wizard. Next, he started singing softly and arm in arm with me began doing the routine for the Wizard of OZ characters going 'off to see the Wizard'. It was wonderful!
I must have asked my parents the same question thousands of time – "Did I do OK in dancing?" My Mother always told me that I did really well and managed to keep up with him.
I asked her when I was an adult and going to Hollywood Park by myself if she remembered the day. Her answer was a resounding yes! She said she did not remember what I said loudly but I did dance across the room with Ray Bolger along the Yellow Brick Road. She said I talked about it for months to anyone who would listen.
Who knew that I would still be talking about now!
Comments