Jockey Rosie Napravnik ready to ride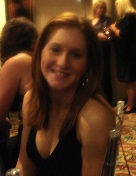 Jockey Rosie Napravnik said on July 5 that she plans to resume riding in a week's time, marking a swift return from a shoulder injury suffered in mid-June.
Napravnik took an important step at Belmont Park, exercising five horses for trainer Mike Maker. It's was the popular 26-year-old rider's first time in the saddle since separating her shoulder after a workout spill at Churchill Downs June 16.
Joe Sharp, Napravnik's husband, is the assistant trainer supervising Maker's New York division.
"Feeling good after breezing five this morning," Napravnik said in a Twitter message. "First day back at the track."
Anna Rose "Rosie" Napravnik (born February 9, 1988) is an American Thoroughbred horse racing jockey and two-time winner of the Kentucky Oaks. Since beginning her career in 2005, she has regularly been ranked among the top jockeys in North America in both earnings and total races won.
As of 2013 she has been in the top 10 by earnings for two years in a row and is the highest-ranked woman jockey in North America.
In 2011, she won the Louisiana Derby for her first time and was ninth in the 2011 Kentucky Derby with the horse Pants On Fire. In 2012, she broke the total wins and earnings record for a woman jockey previously held by Julie Krone, in the process becoming the first woman rider to win the Kentucky Oaks, riding Believe You Can, winning the race for a second time in 2014 on Untapable. She is only the second woman jockey to win a Breeders' Cup race, winning the Breeders' Cup Juvenile on Shanghai Bobby.
Napravnik's fifth-place finish in the 2013 Kentucky Derby and third in the 2013 Preakness Stakes on Mylute are the best finishes for a woman jockey in those two Triple Crown races to date, and she is the only woman to have ridden in all three Triple Crown races.
A native of New Jersey, she is headquartered at New Orleans, Louisiana, where she has been the leading rider at the Fair Grounds Race Course in 2011, 2012, 2013 and 2014. Even with lost time because of the injury, the 26-year-old jockey still ranks eighth nationally in purse earnings with nearly $6.4 million. She is 11th in wins with 125 wins while compiling a 23% strike rate.
Her biggest victory this season was aboard Untapable in the Kentucky Oaks May 2. She also won the Humana Distaff aboard Midnight Lucky a day later at Churchill on the Kentucky Derby undercard. On the year, Napravnik has won 21 stakes wins, 10 of them graded.
Comments