Justify's Belmont Stakes win is NTRA Moment of the Year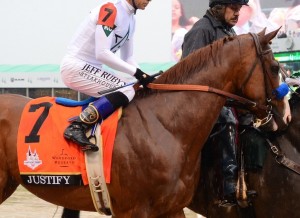 The National Thoroughbred Racing Association (NTRA) announced that Justify's dominant victory in the 150th Belmont Stakes to become just the 13th Triple Crown winner has been voted the 2018 NTRA Moment of the Year based on the results of 2,260 votes cast via Twitter and an online poll.
The winning moment occurred on June 9, 2018. With Hall of Fame jockey Mike Smith in the irons, Justify led every point of call in the 1 ½-mile race to prevail by 1 ¾ lengths and cap off his incredible ascent into the history books. Along the way, the Bob Baffert-trained colt also overcame the "Curse of Apollo" by becoming only the second horse to win the Kentucky Derby after not racing as a 2-year-old (Apollo was the first in 1882). Two weeks later, he then emerged from the dense fog in a surreal Preakness Stakes victory.
The connections of Justify will be honored at Thursday evening's 48th AnnualEclipse Awards Presented by Daily Racing Form, Breeders' Cup and The Stronach Group at Gulfstream Park Racing and Casino in Hallandale Beach, Fla.
The Eclipse Awards will air live on TVG at 8 p.m. ET. TVG is available in more than 45 million homes nationwide. The ceremony also will be available via DirecTV Now, Apple TV, Amazon Fire TV, and Roku.
The Racetrack Television Network (RTN) also will make the Eclipse Awards available across all of its platforms, including Roku.
A livestream of the ceremony will be available online at Eclipse Awards partner websites NTRA.com, DRF.com, XBTV.com, and GulfstreamPark.com and will be presented commercial free courtesy of WinStar Farm.
NTRA Moment of the Year voters chose from 12 occurrences illustrating a range of human emotions as well as outstanding displays of equine athleticism. Finishing second was Diversify's victory in the Whitney Stakes last August, his final win before the passing of his trainer Rick Violette, Jr.
Represented on Twitter by the hashtag #JustifyTC, the winning moment garnered 829 votes. Diversify's Whitney triumph, #DiversifyWhitney, earned 372 votes. Enable's victory in the Longines Breeders' Cup Turf, #EnableBC, was third with 300 votes.
NTRA press release
Tags: Amazon Fire TV, Apple TV, Belmont Stakes, Breeders' Cup, Daily Racing Form, DirecTV Now, Eclipse Awards, Gulfstream Park, Hall of Fame, jockey, Justify, Kentucky Derby, Mike Smith, National Thoroughbred Racing Association, Preakness Stakes, Racetrack Television Network, Roku, Stronach Group, Triple Crown, TVG
Comments