Kentucky Oaks not just fillies and lillies – think 'Pink Out'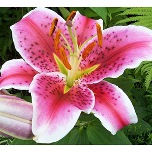 Churchill Downs, home of the Kentucky Derby and Longines Kentucky Oaks, and its charitable beneficiaries Bright Pink® and Horses and Hope has announced the 141 breast and ovarian cancer survivors selected from across the nation to walk in the 2015 Kentucky Oaks Survivors Parade Presented by Kroger with supporting sponsor Kindred Healthcare.
The seventh annual Survivors Parade is a march along Churchill Downs' historic homestretch to drive awareness of ovarian and breast health and champions all those whose lives have been impacted by breast and ovarian cancer. The seventh annual Survivors Parade will take place immediately prior to the running of the 141st running of the Longines Kentucky Oaks, the premier horse racing event for 3-year-old fillies on Friday, May 1, 2015, the day before the famous Kentucky Derby.
The 141 survivors were selected through a national six-week online process in which the public nominated and voted for the individuals they wished to see represent all survivors of breast and ovarian cancer in the Survivors Parade. More than 1 million people voted in this year's process, a 345 percent increase from last year. A total of 541 survivors were nominated, up 24 percent from 2014. The 141 survivors selected come from cities across the U.S., including Los Angeles; Austin, Texas; Weymouth, Mass.; and Louisville, Ky.
The online process also allows the public to donate to Bright Pink®, a national breast and ovarian cancer organization, through the Kentucky Derby weekend. The process has raised nearly $20,000 this year, a 270 percent increase from 2014.
The public may read the survivors' stories and make donations to Bright Pink through May 2, 2015 at www.kentuckyderby.com/survivors
The Survivors Parade is part of Churchill Downs' Longines Kentucky Oaks seventh annual 'Pink Out', during which the track conducts fundraising, provides outreach and drives national breast and ovarian health awareness. Churchill Downs has donated more than $620,000 to breast cancer organizations through the 'Pink Out' celebration during the past seven years.
"Bright Pink is grateful to be a part of this beautiful tribute and to receive such meaningful support from the Kentucky Oaks community," said Lindsay Avner, Founder and CEO of Bright Pink. "We hope that the 141 breast and ovarian cancer survivors will walk tall and proud, knowing that Churchill Downs and Bright Pink are committed to the prevention and early detection of these diseases for generations to come."
Comments