March 9 standings on the Road to the Kentucky Derby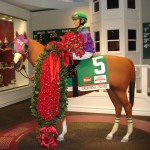 The Road to the 2016 Kentucky Derby is a 35-race series that awards points to the Top 4 finishers in certain Kentucky Derby prep races. The Top 20 point earners will earn a spot in the starting gate for the 142nd running of the $2 million Kentucky Derby on Saturday, May 7, 2016. The Kentucky Derby field at Churchill Downs has been limited to 20 starters since 1975. At least 20 horses have entered the 1 ¼-mile race for 3-year olds every year since 2004, and 15 of the last 17 years.
Here are the horses with at least 10 points on the road to the Kentucky Derby.
Rank, Horse, Points, Owner(s), Trainer, Non-Restricted Stakes Earnings
1. Mohaymen, 70, Shadwell Stable (Sheikh Hamdan bin Rashid Al Maktoum), Kiaran McLaughlin $760,350
2. Gun Runner, 51, Winchell Thoroughbreds LLC (Ron Winchell) & Three Chimney Farms (Goncalo Borges Torrealba), Steve Asmussen $249,200
3. Shagaf, 50, Shadwell Stable (Sheikh Hamdan bin Rashid Al Maktoum), Chad Brown $240,000
4. Nyquist, 30, Reddam Racing LLC (J. Paul Reddam), Doug O'Neill $1,700,000
5. Mor Spirit, 24, Michael L. Petersen, Bob Baffert $336,800
6. Sunny Ridge, 23, Dennis A. Drazin Jason Servis $525,600
7. Mo Tom, 22, G M B Racing (Gayle Benson) Tom Amoss $288,326
8. Laoban, 22, Southern Equine Stable LLC (Michael Moreno) & McCormick Racing LLC, Eric Guillot $92,000
9. Forevamo, 20, Brittlyn Stable Inc. (Evelyn Benoit), Al Stall Jr. $210,000
10. Zulu, 20, Michael Tabor, Mrs. John Magnier & Derek Smith Todd Pletcher $79,200
11. Exaggerator, 16, Big Chief Racing LLC (Matthew W. Bryan), Keith Desormeaux $980,000
12. Flexibility, 15, Klaravich Stables Inc. (Seth Klarman) & William H. Lawrence, Chad Brown $232,500
13. Brody's Cause, 14, Albaugh Family Stable (Dennis Albaugh), Dale Romans $500,000
14. Greenpointcrusader, 14, St. Elias Stable (Vincent Viola), MeB Racing Stables LLC & Brooklyn Boyz Stables (Mary Ellen and Anthony Bonomo), Dominick Schettino $369,300
15. Swipe, 12, Big Chief Racing LLC (Matthew W. Bryan), Keith Desormeaux $597,130
16. Fellowship, 12, Jacks or Better Farm Inc. (Fred and Jane Brei), Stanley Gold $115,590
17. Adventist, 12, Treadway Racing Stable (Jeff Treadway), Leah Gyarmati $65,000
18. Collected, 11, Speedway Stable LLC (Peter Fluor & K.C. Weiner), Bob Baffert $105,000
19. Airoforce, 10, John C. Oxley, Mark Casse $444,080
20. Suddenbreakingnews, 10, Samuel F. Henderson, Donnie Von Hemel $410,000
21. Cocked and Loaded, 10, Richard Ravin & Patricia's Hope LLC (Vince Foglia), Larry Rivelli $280,840
22. Discreetness, 10, Xpress Thoroughbreds LLC (Dwight Pruett), William "Jinks" Fires $246,153
23. Frank Conversation, 10, Reddam Racing LLC (J. Paul Reddam), Doug O'Neill $199,000
24. Riker, 10, Team Valor International (Barry Irwin), Gary Barber & Tucci Stables (Carlo & Lou Tucci),
Mark Casse $182,375
Tags: Adventist, Airoforce, Al Stall Jr, Albaugh Family Stable, Big Chief Racing, Bob Baffert, Brittlyn Stable Inc., Brody's Cause, Chad Brown, Cocked and Loaded, Collected, Dale Romans, Dennis A. Drazin Jason Servis, Derek Smith, Discreetness, Dominick Schettino, Donnie Von Hemel, Doug O'Neill, Eric Guillot, Exaggerator, Fellowship, Flexibility, Forevamo, Frank Conversation, G M B Racing, Gary Barber, Greenpointcrusader, Gun Runner, Jacks or Better Farm Inc, John C. Oxley, Keith Desormeaux, Kiaran McLaughlin, Klaravich Stables Inc, Laoban, Larry Rivelli, Leah Gyarmati, Mark Casse, Michael L. Petersen, Michael Tabor, Mo Tom, Mohaymen, Mor Spirit, Mrs. John Magnier, Nyquist, Reddam Racing, Richard Ravin & Patricia's Hope LLC, Riker, Road to the Kentucky Derby, Samuel F. Henderson, Shadwell Stable, Shagaf, Southern Equine Stable, Speedway Stable, St. Elias Stable, Stanley Gold, Steve Asmussen, Suddenbreakingnews, Sunny Ridge, Swipe, Team Valor International, Three Chimney Farms, Todd Pletcher, Tom Amoss, Treadway Racing Stable, Tucci Stables, William "Jinks" Fires, Winchell Thoroughbreds, Xpress Thoroughbreds, Zulu
Comments