Michael Veitch is National Museum of Racing and Hall of Fame's historian.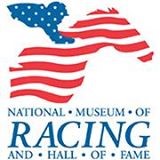 Michael Veitch, who covered the sport of Thoroughbred racing as a decorated journalist for nearly 40 years and is the author of three books on the sport's history, has been named the National Museum of Racing and Hall of Fame's historian.
Veitch, who will officially begin the part-time role on Oct. 1, replaces Allan Carter, who has retired after serving in the position since 2003.
"The Museum is most grateful to Allan Carter for all the wonderful things he did during his time as historian. He was a tremendous asset to the sport and a huge part of our team," said Cate Johnson, the museum's director. "Allan will always be part of our family here. We are thrilled to welcome Michael into a role that he is a perfect fit for. He has an encyclopedic knowledge of the sport's history, and he is an excellent researcher with an outstanding reputation within the industry."
Veitch is no stranger to the museum. He has served the institution as a trustee and currently chairs its Hall of Fame Historic Review Committee. In addition, he is a member of the Contemporary Nominating Committee and was selected to the museum's Joe Hirsch Media Roll of Honor in 2017.
Earlier in his career, Veitch was the lead racing writer and columnist for The Saratogian and its racing supplement, The Pink Sheet, from 1979 through 2017. He is the author of "Foundations of Fame: Nineteenth Century Thoroughbred Racing in Saratoga Springs," "Summit of Champion: Thoroughbred Racing in Saratoga Springs 1901-1955," and co-author of "The Travers: 150 Years of Saratoga's Greatest Race."
"I am honored that the National Museum of Racing would ask me to join the staff and succeed such distinguished historians as Tom Gilcoyne and Allan Carter," Veitch said. "I love racing and its history, and I'm really looking forward to this."
Press Release
Comments