Mike Battaglia enters a new path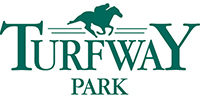 Mike Battaglia is an American horse racing analyst, race caller and television broadcaster. Battaglia has worked most of his career at Churchill Downs and Turfway Park.
He has set the morning line odds at Churchill since 1974, and was the race announcer there from 1977 to 1996. Kentucky Derby Tours members heard him call the races at Churchill Downs for those 20 years. I can still hear him call the 1982 Kentucky Derby with Cupecoy Joy's name in the lead until the stretch run.
Mike has also been the morning line oddsmaker and race caller for Turfway Park. It was hard for him to decide when he could retire from any of these positions. He needed an exit strategy that would let him walk away in fitting fashion without taking him away from Turfway Park, a place that has been a part of his life since his teen years.
"I didn't want to retire, I didn't want to stop," Battaglia said. "I've been associated with Turfway for so long and I had talked to (track general manager) Chip (Bach) about this and he said 'What if you stay on as associate vice president and you could help me do some stuff, you could work with people, do seminars?'. And I said you know, I think I would like to do that.
"So I said 'How about if I call my dad's race and call it quits after that?' So we worked out a deal. And the plan right now is I'm going to come back every year and call dad's race. I'll call one race a year. And I'm ready (to walk away). I've been doing it for 44 years. The nightly grind of calling the races like that, I was just flat tired of doing it."
So Sunday, March 13, 2016 ended a full time relationship of Mike as a race caller. He will stay on at Turfway Park as Associate VP.
His son Bret Battaglia was the morning line oddsmaker for Ellis Park in 2010 and 2011, and has been the oddsmaker at Turfway Park since December 2013.
Battaglia has been a member of the NBC Sports broadcast team for the Kentucky Derby and the Preakness Stakes since the network gained broadcast rights in 2001. He also worked the Belmont Stakes for NBC from 2001 through 2005, the Breeders' Cup from 1993 through 2005, and various other races televised by NBC from 1993 onward.
Mike Battaglia was in the 2010 movie Secretariat as well as the 1999 film Nice Guys Sleep Alone. Soime portions from a Turfway Park press release.
Comments