Online voting open for Secretariat Vox Populi Award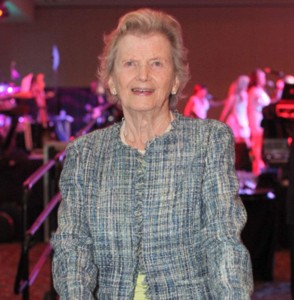 Online voting is now open for the ninth annual winner of the Secretariat Vox Populi Award. Created by Secretariat's late owner Penny Chenery, the Vox Populi, or "Voice of the People," Award recognizes the racehorse whose popularity and racing excellence best resounded with the public and gained recognition for the sport during the past year.
Fans can vote in the online poll, which can be found at Secretariat.com for one of five nominees selected by the Vox Populi Committee this year. Voters also have the option to write in a racehorse of their choice. The poll is open through Nov. 30, and a public presentation to the 2018 Vox Populi winner is planned for January 12, 2019 at Santa Anita Park.
This year's world-class nominees present voters with a distinct international flavor: Accelerate, the accomplished 5-year-old racing veteran whose nearly perfect 2018 season culminated with a commanding victory in the Nov. 3 Breeders' Cup Classic; Enable, the 4-year-old European distaff sensation who has recorded wins on both sides of the Atlantic, including the 2018 Prix de l'Arc de Triomphe and the Longines Breeders' Cup Turf; Justify, the 2018 Triple Crown winner who retired with a perfect 6-for-6 record following a historic 3-year-old season; Monomoy Girl, the 3-year-old filly whose spectacular 2018 racing campaign included victories in the Kentucky Oaks and Longines Breeders' Cup Distaff; and Winx, the 7-year-old queen of racing Down Under and Australian Cox Plate winner whose continuing reign prevails along with her ongoing streak of 29 consecutive victories.
"We are thrilled to present such a fine field of nominees. Their talent and competitive spirit have excited fans both here in the U.S. and abroad," said Kate Chenery Tweedy, daughter of Mrs. Chenery. "Mom loved a good matchup, and she would have been delighted with nominees who have turned in such remarkable performances and achieved such a broad range of successes at the highest levels of racing."
The list of previous Vox Populi winners reads as a who's who among the sport's contemporary superstars and beloved equine heroes: Ben's Cat (2017), California Chrome (2016 and 2014), American Pharoah (2015), Mucho Macho Man (2013), Paynter (2012), Rapid Redux (2011), and 2010 inaugural winner Zenyatta.
The nominating committee for the Secretariat Vox Populi Award is comprised of several distinguished personalities from within and outside the racing industry who all share a keen interest and affection for the sport. For more information about the award, visit Secretariat.com, the official website for the legendary Thoroughbred champion. Celebrating racing's past to enrich its future, Secretariat.com is a comprehensive online source for historical information, photography, merchandise, and memorabilia chronicling the enduring legacy of the 1973 Triple Crown winner. Secretariat.com can also be found on Facebook, Twitter and Instagram.
Press release
Comments