Secretariat's flower garland from the 1973 Preakness at auction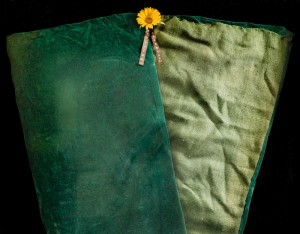 The green flower garland draped over Secretariat in the winner's circle after capturing the 1973 Preakness Stakes will be auctioned by Robert Edward Auctions. Bidding runs from July 26-August 18. Interested bidders may participate in the auction online.
This garland, which was originally covered with hundreds of black-eyed Susan flowers, originates directly from Secretariat's owner, Mrs. Penny Chenery. It first appeared at auction in 2017 (realized $60,546), at which time a portion of the auction proceeds were donated to the nonprofit equine welfare organization R.A.C.E. Fund, which helps racehorses in need of retirement and rescue from slaughter. It has been consigned to this auction by the original purchaser in 2017. The garland (90 x 18 inches), which has been stripped of its flowers, save one, has been folded into a "V" shape (allows viewing of both the front and reverse) and is professionally mounted within a large shadowbox framed display measuring 41.5 x 49 inches. A Preakness ribbon and single Black-Eyed Susan remain affixed to the top of the garland.
In 1973 Secretariat became the first horse in 25 years to win the Triple Crown. While the feat itself is a remarkable achievement for any horse, Secretariat not only won the Triple Crown, he did so by recording record times, all of which still stand, in each of the three races: the Kentucky Derby, the Preakness Stakes, and the Belmont Stakes. Secretariat's win in the final leg of the Triple Crown, at the Belmont Stakes, was punctuated with an unheard of 31-length victory. Considered by many historians as the greatest racehorse of all time, Secretariat retired after the 1973 racing season with a lifetime record of 16-3-1 and earnings of $1,316,808.
Bidding began at $10,000.
Additional information on Secretariat's garland can be found at: https://bid.robertedwardauctions.com/bids/bidplace?itemid=60131
Press release
Comments