'The Greatest Race' is updated at the Kentucky Derby Museum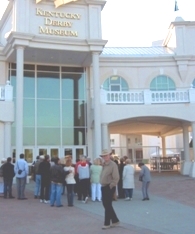 The Kentucky Derby Museum invites everyone to celebrate the new updated version of 'The Greatest Race'. 'The Greatest Race', presented by The Kroger Company and Stock Yards Bank and Trust Company, is a newly enhanced, 360° immersive media experience that transports viewers into the action of the Kentucky Derby in the Museum's full-circle theater, The Great Hall.
"Unless you're singing My Old Kentucky Home on Derby day, you will not feel a bigger sense of pride or a rush of excitement about the Kentucky Derby than when you experience The Greatest Race," Kentucky Derby Museum President Patrick Armstrong said, "This immersive media experience will showcase the Derby experience to visitors from around the world for years to come and will continue to enhance our mission to educate, excite and engage guests about the Kentucky Derby."
To celebrate the grand premiere of the new 360° media experience, The Greatest Race, the Kentucky Derby Museum offered admission for $3.60 for all guests during the first three hours the Museum is open (11 a.m. to 2 p.m.) on Sunday, Dec. 6. Guests will be treated to free doughnuts from Thorntons and the first 360 people in attendance will receive a limited-edition poster commemorating The Greatest Race. The official public premiere is scheduled for 11:10 a.m. at the Museum, located at 704 Central Avenue near Gate 1 of Churchill Downs Racetrack.
The Greatest Race was produced by Louisville-based Donna Lawrence Productions. During Kentucky Derby 141, Lawrence assembled a team of more than 60 crew members including world-renowned photographers, recordists, digital specialists, and production experts for unprecedented access to Churchill Downs Racetrack. The team captured over 25 hours of new footage, including American Pharoah's historic Derby win, utilizing high resolution 4K digital cameras and a one-of-a-kind 360° camera.
The Kentucky Derby Museum invested $2.9 million to transform The Greatest Race and upgrade infrastructure in The Great Hall, with support from presenting sponsors, private donations and grant funding from long-time, major Derby Museum supporter, The James Graham Brown Foundation.
The Greatest Race will be shown at 10-minutes after the hour, every hour and is included with the price of general admission to the Kentucky Derby Museum.
Kentucky Derby Tours can hardly wait to see the new version of 'The Greatest Race'!
Comments