Victor Espinoza "excited" to be inducted in Hall of Fame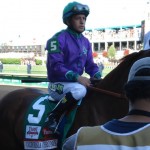 Victor Espinoza, the self-proclaimed "happy Mexican," seemed no more ebullient than usual at Clockers' Corner Thursday morning, four days after he and fellow jockeys Javier Castellano and the late Garrett Gomez were elected to the contemporary category of racing's Hall of Fame, along with three-time Breeders' Cup Mile winner Goldikova.
"I'm excited," said the native of Mexico City, who turns 45 on May 23. "Every jockey wants to be there, but for me, it was more important to win the Triple Crown. The Hall of Fame is a bonus.
"It is an honor to be in there. The only problem is," he added, laughing, "I'm kind of starting to feel older. Most people in the Hall of Fame are older. But seriously, being a member of the Hall of Fame is good for any jockey to have on his resume."
The induction ceremony will be held Aug. 4 at Saratoga Springs, N.Y.
Espinoza was proud to be voted in with four-time Eclipse Award winner Castellano, 39, and 13-time Breeders' Cup winner Gomez, and despite his age and achievements, does not have the "R" word on his immediate radar screen.
"I want to continue to ride," said Espinoza, who is represented by agent Brian Beach. "I'm dedicating myself very hard right now, especially for the Kentucky Derby. I'm focused on that and working even harder than before.
"I adhere to a strict workout routine every day to keep in shape, and always give 100 percent to win every race."
Veteran agent Tony Matos, who represented Espinoza for 15 years and Gomez for the last three years of his career, said, "Both were very good to work with, are most deserving, and I hope in some small way I helped get them elected."
Said Mike Smith, one of four active Hall of Fame members in Santa Anita's jockey colony, along with Kent Desormeaux, Alex Solis and Gary Stevens: "It's awesome. They're all most deserving and their records speak for themselves. I've never seen three jockeys voted in the same year. Congratulations to all three."
Added Stevens: "I'm happy for them. All three are deserving. Craig Perret also was nominated, and he deserves to be in there, too. He's been overlooked for a long time, although Goldikova (the lone horse and the fourth nominee to be voted in) certainly belongs."
Bob Baffert, who gave Gomez a leg up on many a stakes winner, as well as Espinoza, who rode Baffert champion American Pharoah to the first Triple Crown sweep in 37 years in 2015, was fully on board with their election.
"Unfortunately for Garrett, he wasn't able to enjoy it," Baffert said of the winner of 3,769 races with purse earnings of $205,224,899, who was found dead Dec. 14, 2016, in Tucson, Arizona, at the age of 44. "He definitely deserves to be in there.
"Not only was he a great rider, but a good friend. He was a lot of fun to be around.
"All I can say about Victor is, not only does he deserve to be in it, he's going to have the biggest plaque ever as a jockey, because he's ridden some really fantastic horses (most notably American Pharoah and two-time Horse of the Year California Chrome).
"His plaque is going to outdo any jockey who's in there right now, believe me.'"
A Santa Anita Press release
Comments