2011 Kentucky Derby winner Animal Kingdom doing well in Australia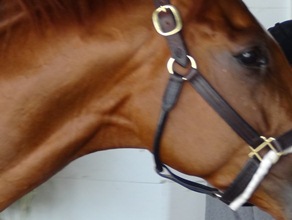 When Arrowfield Stud in Australia announced the service fees for their ten stallions in 2013, US breeders took note. Arrowfield Stud had recently acquired 2011 Kentucky Derby & 2013 Dubai World Cup winner Animal Kingdom. The fee was set at $38,500 including GST (about $40,400 in US Dollars).
Six mares have now been confirmed in foal to Animal Kingdom. This is his first season at stud at Arrowfield Stud in New South Wales, Australia.
The 5-year-old Leroidesanimaux horse is standing the Southern Hemisphere season and will shuttle to stand the Northern Hemisphere season at Darley's Jonabell Farm in Lexington, Ky. Darley purchased an interest in him following his dominant 2013 Dubai World Cup victory.
"He's the smartest first-season stallion I have seen in the barn, an absolute natural and a pleasure to work with," Arrowfield operations manager Sam Fairgray said.
Animal Kingdom, who was trained by H. Graham Motion for owner-breeder Team Valor International, won five of 12 career starts, and also finished second five times, for earnings of $8,387,500. In addition to the Kentucky Derby and Dubai World Cup, the 2011 champion 3-year-old male also won the Grade 3 Spiral Stakes. He finished second in three Grade 1 events – the Preakness Stakes, Breeders' Cup Mile, and Gulfstream Park Turf Handicap.
Animal Kingdom had a series of injuries which makes his 2013 Dubai World Cup even more spectacular. After the 2011 Belmont Stakes, he had a stiff left hind leg. Nuclear bone scans conducted at Rood and Riddle Equine Hospital revealed a small fissure at the proximal aspect of the left hind cannon bone where it articulates with the hock. A small bone defect below the previously observed fissure on his left hock was diagnosed as a slab fracture on June 29, and Animal Kingdom did not race for the remainder of the 2011 season. Two screws were placed in the slab fracture during surgery on June 30, 2011, at the New Bolton Research Center.
Animal Kingdom recovered well from surgery and was slated to run in the 2012 Dubai World Cup. After winning a 1 1/16-mile turf race at Gulfstream Park, he suffered another fracture in the same leg. The injury was detected after a March 11, 2012, training run at Palm Meadows, and he was withdrawn from competition in the Dubai World Cup. In November 2012, he came in a strong second to 2012 Horse of the Year, Wise Dan.
Tags: 2011 Kentucky Derby, 2013 Dubai World Cup, animal kingdom, Arrowfield Stud, australia, Breeders' Cup Mile, Darley, Darley's Jonabell Farm, Gulfstream Park Turf Handicap, H. Graham Motion, KY, Leroidesanimaux, Lexington, New Bolton Research Center, New South Wales, Palm Meadows, Sam Fairgray, stallions, stud, Team Valor International
Comments