2014 Gulfstream Park Fountain of Youth
While money talks, Kentucky Derby points scream. Last weekend was the first of the 50-point races in the Road to the Kentucky Derby series, a points system to determine the 20 entrants into the race. So here starts the "serious" Kentucky Derby prep races. The winner of Saturday's race received 50 points, which will almost assuredly earn them a spot in the first leg of the Triple Crown. The runner-up gets 20 points, third collects 10 and the fourth-place finisher picks up five.
Last year, the Shug Mc Gaughey trained Orb was a fast improving horse and "golden" in his stakes debut in the Besilu Stables Fountain of Youth Stakes at Gulfstram Park. He came from off the pace and ran down odds-on favorite choice Violence to win. Orb went on to win the 139th Kentucky Derby.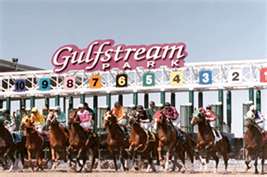 At last Saturday's 2014 Fountain of Youth Stakes at Gulfstream Park, Shug was hoping for a re-run of last years race with Top Billing.
Also looking for the win was three time winning Kentucky Derby jockey Calvin Borel piloted Almost Famous.
Trainer Dale Romans entered the race wanting to give Medal Count every chance to join those horses who will be at the top of their game on the first Saturday in May. "You know I've always been high on Medal Count," said Romans, who also saddled Hesinfront. "I think he's an exceptional horse and he deserves a chance to be on the Kentucky Derby path."
Trainer Jose Garroffolo feels that Wildcat Red is a very sound horse and if he handles the two turns, then we can start thinking about going to Kentucky in 10 weeks. Ironically, his sole loss came in the Gulfstream Park Derby on New Year's Day when General a Rod beat him by a head at the line.
Trainer Todd Pletcher was relieved and felt he got better post positions than Top Billing with both of his horses entered – Commissioner and We Miss Artie.
General a Rod won the Gulfstream Park Derby and looked to like the track.
When the horses hit the wire, Wildcat Red was the winner holding off a bid from General a Rod. Shug Mc Gaughey trained Top Billing was third. That's horse racing!
50 Points may possibly put Wildcat Red in the gate for the 2014 Kentucky Derby. Louisville residents may have a dilemma – will they love the horse in the Derby as their beloved Louisville Wildcat High School team or will they think of the horse as the rivals to their University of Kentucky Cardinals – the U of Kentucky Wildcats?
Tags: 2014 Fountain of Youth Stakes, Almost Famous, Calvin Borel, Commissioner, Dale Romans, first Saturday in May, General a Rod, Gulfstream Park, Gulfstream Park Derby, jockey, Jose Garroffolo, Kentucky Derby, Kentucky Derby points, Louisville, Louisville Wildcat High School, Medal Count, Orb, Road to the Kentucky Derby, Shug Mc Gaughey, Todd Pletcher, Top Billing, trained, Triple Crown, U of Kentucky Wildcats, University of Kentucky Cardinals, We Miss Artie, Wildcat Red
Comments