Is Intense Holiday really our 5 night Kentucky Derby Tour?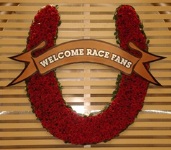 Is Intense Holiday really our 5 night Kentucky Derby Tour?
All kidding aside. Intense Holiday hit the top of the Kentucky Derby point standings leaderboard with 53 points last weekend in the Risen Star Stakes at The Fairgrounds in Louisiana. Will he enjoy the Southern hospitality of Louisville come the first Saturday in May?
Starlight Racing's Intense Holiday won his first graded stakes race. "We had this long final run here, that's the difference," Starlight's Jack Wolf said of how Intense Holiday found his graded stakes win. "I was at a bad angle and I didn't think we had (won it), but I'm glad I'm wrong."
This was the second victory for Intense Holiday in six starts and gave horse racing a new standings leader in Kentucky Derby prep races. Trained by Todd Pletcher and ridden by Mike Smith, it looks like the Kentucky Derby is in their sights.
"Well, in the very beginning he kind of slipped leaving [the starting gate] which turned out to be a good thing. It kind of scared him and he got up on the bridle, which I wanted him to be, but he was a bit too keen early," Smith said. "So when I finally talked him out of it he just completely let go, and I was like 'uh no, not that much.' I asked him again and he jumped back on it again, and I had to talk him out it or he would let go too much. There was a lot of room to improve there and a lot of room to grow."
Albano lead the race most of the way from the number 1 post position and held it throughout the race until Intense Holiday's late charge.
Trained by Larry Jones who said, "He gave his best effort, we were very happy with it. This keeps us pointing to the Louisiana Derby."
Vicar in Trouble went off as the favorite at 5 to 2. He is trained by Mike Maker for Ken and Sarah Ramsey and ridden by Rosie Napravnik. He came in third.
Vicar's in Trouble looks to be heading to the Louisiana Derby next. "We had a little bit of a wide trip," said jockey Rosie Napravnik, "but the horse ran great. He definitely belongs in this kind of race."
No stranger to the Triple Crown road, Mike Pegram and partners own Hoppertunity, fourth in the race. He ran a good race and came out of it well.
"I thought our horse ran a great race," said Bob Baffert's assistant trainer Jimmy Barnes on Sunday morning, "especially since it was only the third start of his career. He seemed to like the track here and I think he showed he might be better at a longer distance."
Intense Holiday received 50 Kentucky Derby points, 20 points went to Albano, 10 points to Vicar in Trouble and Hoppertunity received 5 points.
Tags: Albano, Bob Baffert, first Saturday in May, Hoppertunity, Intense Holiday, Jack Wolf, Jimmy Barnes, Ken and Sarah Ramsey, Kentucky Derby point standings, Kentucky Derby prep races, Kentucky Derby Tour, Larry Jones, Louisiana Derby, Louisville, Mike Maker, Mike Pegram, Mike Smith, Risen Star Stakes, Rosie Napravnik, Southern hospitality, Starlight Racing's, The Fairgrounds, Todd Pletcher, Triple Crown, Vicar in Trouble
Comments