2014 Kentucky Derby points leaderboard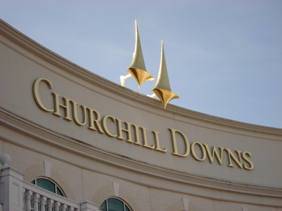 Each week, the Road to the 2014 Kentucky Derby may change leaders depending on who wins the horse racing stakes for 3 year olds that week. The Road to the 2014 Kentucky Derby is a 34-race series that awards points to the Top 4 finishers in each race. The Top 20 point earners nominated to the Triple Crown will earn a spot in the starting gate for the 140th running of the $2 million Kentucky Derby at Churchill Downs on Saturday, May 3, 2014. Many of us remembers the races being called Kentucky Derby prep races.
The Kentucky Derby field has been limited to 20 starters since 1975.
Rank Horse, Points, Owner(s)- Trainer Non-Restricted Stakes Earnings
1. Havana, 14, Michael Tabor, John Magnier & Derrick Smith – Todd Pletcher $660,000
2. Cairo Prince, 14, Namcook Stables (Terry Murray), Paul Braverman, Harvey Clarke & Craig Robertson III – Kiaran McLaughlin $470,000
3. Honor Code, 14, Lane's End Racing (Will Farish) & Dell Ridge Farm LLC (Mattie Justice) – Shug McGaughey III $340,000
4. Tapiture, 12, Ron Winchell – Steve Asmussen $120,738
5. Bond Holder, 11m Reddam Racing, LLC (J. Paul Reddam) – Doug O'Neill $333,000
6. Rise Up, 10, Paul and Andrena Van Doren – Tom Amoss $782,633
7. We Miss Artie, 10, Ken & Sarah Ramsey – Todd Pletcher $262,000
8. Noble Moon, 10, Treadway Racing Stable (Jeff Treadway) – Leah Gyarmati $145,000
9. Ami's Holiday, 10, Ivan Dalos – Josie Carroll $136,145
10. Vicar's in Trouble, 10, Ken & Sarah Ramsey – Mike Maker $120,000
11. Cleburne, 10, Donegal Racing (Jerry Crawford et al) – Dale Romans $102,044
12. Tanzanite Cat, 10, James L. & Ywachetta H. Driver – Cody Autrey $90,000
13. Midnight Hawk, 10, Hill 'n' Dale Equine Holdings, Inc. (John Sikura), Mike Kitchen, Mike Pegram, Mike Tice & Joel Quenneville – Bob Baffert $60,000
14. Casiguapo, 5, All American Horses (Jorge Wagner) – Mario Morales $271,050
15. Conquest Titan, 4, Conquest Stables LLC – Mark Casse $163,445
16. Dance With Fate, 4, Sharon Alesia, Bran Jam Stable (Mike Mellen) or Ciaglia Racing, LLC (Joe Ciaglia) – Peter Eurton $110,000
17. Smarty's Echo, 4, Windy Hill Farm (Pete and Scott Reiman) – Anne Smith $82,000
18. Albano, 4, Brereton C. Jones – Larry Jones $70,000
19. Classic Giacnroll, 4, Lisa Guerrero & Joseph E. Besecker – Lisa Guerrero $50,000
20. Walt, 4, Black Hawk Stable – Chris Hartman $45,000
21. Laddie Boy, 4, Kevin Jacobsen – Chuck Peery $39,719
22. Smart Cover, 4, Donegal Racing (Jerry Crawford et al) – Dale Romans $32,918
23. Big Bazinga, 4, Derby Dreamers Racing Stable – Katerina Vassilieva $29,139
24. Kristo, 4, Hronis Racing, LLC (Kosta Hronis) – John Sadler $20,000
25. Intense Holiday, 3, Starlight Racing – Todd Pletcher $87,500
26. Ride On Curlin, 3, Daniel J. Dougherty – Billy Gowan $64,387
27. Strong Mandate, 2, Robert C. Baker & William L. Mack – D. Wayne Lukas $382,500
28. Tamarando, 2, Mr. & Mrs. Larry D. Williams – Jerry Hollendorfer $370,000
29. Go Greeley, 2, J.R. Racing Stable, Inc. (John Ross) – John Ross $220,601
30. Roman Unbridled, 2, Michelle Y. Brown – Chad Cook $113,000
31. Rankhasprivileges, 2, Magdalena Racing (Sue and Kenny McPeek) – Kenny McPeek $100,250
32. Ontology, 2, Reddam Racing, LLC (J. Paul Reddam) – Simon Callaghan $77,250
33. Coastline, 2, John C. Oxley – Mark Casse $62,979
34. Arctic Slope, 2, Shortleaf Stable, Inc. (John Ed Anthony) – Kenny McPeek $41,752
35. Wicked Strong, 2, Centennial Farms (Don Little Jr.) – Jimmy Jerkens $40,000
t-36. Gold Hawk, 2, Winchell Thoroughbreds, LLC (Ron Winchell) – Steve Asmussen $20,000
t-36. Scotland, 2, Harvey Clarke, Paul Braverman & Team D – Tony Dutrow $20,000
38. Awesome Sky, 2, John C. Oxley – Mark Casse $16,819
39. Can the Man, 1, Kaleem Shah, Inc. – Bob Baffert $111,000
40. Rum Point 1, Reddam Racing, LLC (J. Paul Reddam) – Doug O'Neill $30,250
41. Almost Famous, 1, Chuck & Maribeth Sanford LLC – Pat Byrne $23,079
42. Matuszak, 1, George J. Prussian – Bill Mott $12,667
43. Buck Magic, 1, Katherine G. Ball – Dave Fawkes $8,410
Tags: 2014 Kentucky Derby, Ami's Holiday, Bob Baffert, Bond Holder, Cairo Prince, Churchill Downs, Cleburne, Dale Romans, Derrick Smith, Donegal Racing, Doug O'Neill, Havana, Hill 'n' Dale Equine Holdings, Honor Code, Ivan Dalos, John Magnier, John Sikura, Josie Carroll, Ken & Sarah Ramsey, Kiaran McLaughlin, Lane's End Racing, Leah Gyarmati, Michael Tabor, Midnight Hawk, Mike Maker, Mike Pegram, Namcook Stables, Noble Moon, Paul and Andrena Van Doren, Reddam Racing, Rise Up, Ron Winchell, Shug McGaughey III, Steve Asmussen, Tanzanite Cat, Tapiture, Todd Pletcher, Tom Amoss, Treadway Racing Stable, Vicar's In Trouble, We Miss Artie
Comments