Hollywood Park auction far exceeded expectations of auction comapny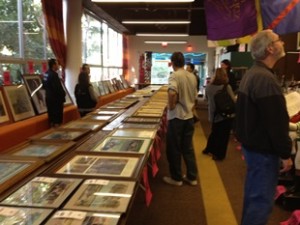 The two-day Hollywood Park auction of assets exceeded expectations, according to Mark Weitz of GA Global Partners, who managed the sale at the famed Southern California race track, which officially closed on December 22.
Some 1,400 lots of race track memorabilia, photos and signage along with industrial, track and kitchen equipment were auctioned off over January 24 and 25 with a webcast auction. Lots ranged in sale from $25 for a print to more than $50,000 for industrial equipment. Financial results of the sale were not disclosed. Horse racing people were very interested in the event.
"We registered more than 1,000 bidders from coast to coast with an additional audience of interested bidders from Europe and South America," said Weitz, who served as the lead auctioneer of the sale. "The sale exceeded our expectations in terms of interest and bidding."
Hollywood Park opened on June 10, 1938, with such film stars as Al Jolson, Milton Berle, Bob Hope, Joan Crawford and Barbara Stanwyck helping kick off the racing season. The track chairman was Jack Warner of the famed Warner Bros. Studios and many of the 600 original shareholders included stars, directors and producers from the film world.
For decades Hollywood Park lived up to its name, as it wasn't unusual to see Cary Grant, Lucille Ball and Fred Astaire in Hollywood Park's box seats, and, in more recent years, stars such as John Forsythe and Dick Van Patten. The auction also had a photo of Elizabeth Taylor and Michael Jackson at Hollywood Park.
Horse racing royalty also made Hollywood Park a regular stop. Seabiscuit, who won the 1938 Hollywood Park Gold Cup, along with Triple Crown winners Citation, Seattle Slew and Affirmed, ran here, along with Swaps, Zenyatta and many other famed thoroughbreds. There was a four panel large wooden wall with frames inside of Kentucky Derby winners.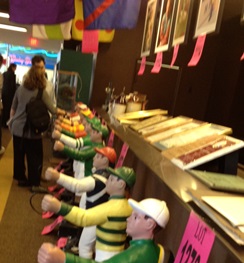 When we went to Hollywood Park on Friday to see what was in the auction in person, we did notice some interesting things: a few Kentucky Derby winning photos and prints, a photo of J. O. Tobin mismarked, aerial views of Marineland of the Pacific in the lot of Hollywood Park aerial photos, and jockeys that were very recognizable not named other than "jockey". We hoped to get some item but as the auction company said, the prices were very high.
Viewing auction items was an excuse to see Hollywood Park again. Sadly, Hollywood Park now joins the growing list of things that are not with us any longer!
Tags: Affirmed, Al Jolson, auction, Barbara Stanwyck, Bob Hope, Cary Grant, Citation, Dick Van Patten, Elizabeth Taylor, Fred Astaire, Hollywood Park, Hollywood Park Gold Cup, horse racing, J. O. Tobin, Jack Warner, Joan Crawford, jockey, John Forsythe, Kentucky Derby winners, Lucille Ball, Michael Jackson, Milton Berle, Seabiscuit, Seattle Slew, Southern California race track, Swaps, Triple Crown winners, Zenyatta
Comments