2021 Kentucky Derby scheduled for May 1, 2021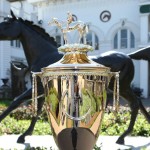 Churchill Downs anticipates that the 2021 Kentucky Derby will return to the first Saturday in May in 2021. The date will be May 1, 2021. Churchill Downs does not expect to fill every seat.
Churchill Downs, Inc., CEO William Carstanjen told reporters that Churchill Downs plans to hold off selling general admission tickets and will operate on the assumption that it will have attendance restrictions for next year's Derby because of continued COVID-19 concerns.
Churchill Downs is hoping to welcome fans at as high as 50 percent capacity at the 2021 Kentucky Derby, CEO Bill Carstanjen told investors on Thursday's third-quarter earnings call. According to the Courier-Journal, Louisville's largest newspaper, Churchill's regular capacity is 165,000 people, so there could be as many as 82,500 fans at the Run for the Roses.
This year's Kentucky Derby was run without fans on Labor Day weekend.
"We are starting with the assumption that we will limit the number of reserved seats to 40-50% of capacity," Carstanjen said on the call. "And we will delay selling any general admission tickets which do not come with seats until we are closer to the date of the Derby. We do not sell many general admission tickets this far out from the event in any case. If the circumstances surrounding the pandemic improve, then we will sell more reserved seats and consider selling general admission tickets."
Carstanjen also told reporters that building on a hotel and gaming facility planned on the grounds of Churchill Downs remains paused, "until we are past the pandemic and can again model the future with more certainty."
CDI reported net revenue of $337.8 million, up 10% over the prior year quarter.
Comments