TOBA to Host Annual National Awards Virtually Sept. 26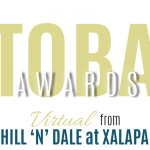 The Thoroughbred Owners and Breeders Association announced today that the 35th annual TOBA National Awards will be held virtually from Hill 'n' Dale at Xalapa on Saturday, September 26, 2020. Hosted by Gabby Gaudet, the awards are open to the public to watch online at TOBA's Facebook page and at TOBA.org/2020Awards.
The TOBA National Awards honor breeders from 20 states and Canada. Also recognized are the National Owner of the Year and National Owner Finalists, National Breeder of the Year, Small Breeder of the Year, National Broodmare of the Year, Racing Partnership of the Year, Rood & Riddle Sport Horse of the Year, Claiming Crown Horse of the Year, Industry Service Award and recipient of the Robert N. Clay Award.
"The TOBA National Awards presentation is a very important event to our industry, as it recognizes outstanding achievements by owners and breeders in 2019," said Dan Metzger, president of TOBA. "With the health pandemic upsetting our everyday lives, we are committed to honoring the best in our sport with a virtual broadcast of the TOBA National Awards. We are very grateful to John Sikura for his support and welcoming us to historic Hill 'n' Dale at Xalapa. The support of our sponsors and advertisers has been overwhelming and we look forward to a unique and special evening on September 26."
The TOBA National Awards are sponsored by Hill 'n' Dale at Xalapa, Angeon Group, Limestone Bank, Stonestreet Farm, National Horsemen's Benevolent and Protective Association, The Jockey Club Information Systems, John Deere and National Thoroughbred Racing Association. For sponsorship opportunities email Meredith Downey at [email protected]
A Thoroughbred Owners and Breeders Association Press Release
Tags: 35th annual TOBA National Awards, Angeon Group, Claiming Crown Horse of the Year, Dan Metzger, Gabby Gaudet, Hill 'n' Dale, Industry Service Award, John Deere, Limestone Bank, National Breeder of the Year, National Broodmare of the Year, National Horsemen's Benevolent and Protective Association, National Owner of the Year and National Owner Finalists, National Thoroughbred Racing Association, Racing Partnership of the Year, Robert N. Clay Award, Rood & Riddle Sport Horse of the Year, Small Breeder of the Year, Stonestreet Farm, The Jockey Club Information Systems, Thoroughbred Owners and Breeders Association, TOBA National Awards, Xalapa
Comments