Auction for American Pharoah halter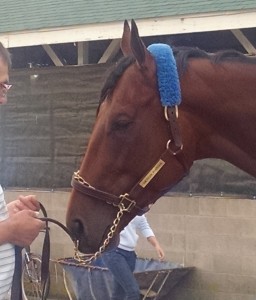 A halter worn by American Pharoah and set in a shadow box with all three of his Triple Crown win photos (all signed by Bob Baffert and Victor Espinoza), and a $2 win ticket from each of his Triple Crown wins will be auctioned off at the ninth annual Ladies Day at the Races to benefit the Backside Learning Center at Churchill Downs.
The Backside Learning Center was launched in 2004 to provide educational opportunities and other resources to backstretch workers. Originally the Klein Family Learning Center and Winstar Library and Classrooms, the name was changed to the Backside Learning Center in 2010. According to the Center's website, the center provides an after school program for the children of backside workers, social services and referrals, and translation and interpretation.
The American Pharoah shadow box is a one-of-a-kind collector's item comes with a Certificate of Authenticity signed by Bob Baffert verifying that the halter was worn by American Pharoah. Interested bidders can access online bidding of this item at: https://qtego.net/qlink/blc
The fundraiser will take place at Churchill Downs' Millionaires Row on Friday, Nov. 13 from 11:30 a.m. until the last race. In addition to watching the races, attendees will enjoy a delicious lunch buffet, watch a fashion show hosted by local boutiques, and have the opportunity to participate in a silent auction and wine drawing. The cost is $75 per person or $500 for a table of eight.
Event sponsors include CaloSpa, Churchill Downs, Bella Casa Design and Staging, Gainesway Farm, Pure Barre Summit, Shircliff Publishing, B. You Fitness, Baron Barclay Bridge Supply, Bend and Zen Hot Yoga, and ValuMart.
For more information or to purchase a ticket, please visit www.backsidelearningcenter.org or call the Backside Learning Center at 502-634-6543.
Come out and support the Backside Learning Center – it is a wonderful cause!
Tags: American Pharoah, auction, B. You Fitness, Backside Learning Center, Baron Barclay Bridge Supply, Bella Casa Design and Staging, Bend and Zen Hot Yoga, Bob Baffert, CaloSpa, Churchill Downs, fundraiser, Gainesway Farm, Halter, Millionaire's Row, Pure Barre Summit, Shircliff Publishing, Triple Crown, ValuMart, Victor Espinoza
Comments