Belmont Stakes is the Neilsen WINNER of last week!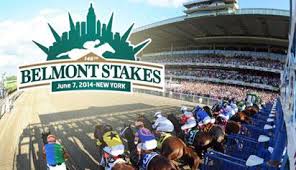 A TV Rarity: The Belmont Stakes telecast tops everything even in prime time.
The most-watched event on television in the past week was a double rarity: on a Saturday and before prime time.
The Nielsen company said 20.6 million people tuned in to the NBC telecast to see California Chrome fail in its attempt to record horse racing's Triple Crown late Saturday. It was the second biggest television audience recorded for the Belmont Stakes over the past two decades, except for the 21.9 million in 2004 when Smarty Jones unsuccessfully tried for the Triple Crown.
It's unusual when a television show outside of prime time records the week's highest ratings. Saturday also tends to be the least-watched television day of the week.
The most popular prime-time shows were the first two games of the NBA Finals. Viewership for the finals, with an identical matchup of Miami vs. San Antonio, is up 4 percent over last year, ABC said.
Even during the normally slow summer season, viewers proved they would turn up for original programming. Sunday was a good example: the NBA game, the Tony Awards, the Miss USA contest and HBO's "Game of Thrones" all aired at the same time and drew a combined audience of nearly 35 million viewers.
Buoyed by basketball, ABC won the week in prime time, averaging 6.9 million viewers. CBS had 5.9 million, NBC had 5.7 million, Fox had 3 million, Univision had 2.6 million, Telemundo had 1.5 million, UniMas had 1.3 million, ION Television had 1.1 million and the CW had 1 million.
History was the week's most popular cable network, averaging 2.06 million viewers in prime time. USA had 1.84 million, Fox News Channel had 1.82 million, the Disney Channel had 1.81 million and TBS had 1.58 million.
NBC's "Nightly News" topped the evening newscasts with an average of 7.7 million viewers. ABC's "World News" was second with 7.5 million and the "CBS Evening News" had 5.9 million viewers.
An ABC News press release
Comments