After the Belmont, California Chrome connections planning next races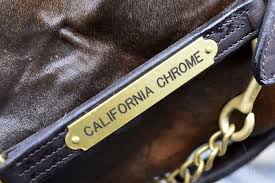 Trainer Art Sherman discussed his preliminary plans for the remainder of California Chrome's 3-year-old season and reflected upon the past five weeks this morning, after his colt came up short in his quest to win the Triple Crown when he dead-heated for fourth in the Belmont Stakes on Saturday.
California Chrome, owned by Steven Coburn and Perry Martin, was attempting to become the first horse since 1978 and 12th overall to sweep Kentucky Derby, Preakness, and Belmont Stakes but finished 1 ¾ lengths behind the winner, Tonalist. California Chrome suffered a cut to his right-front hoof at the start of the race when he was struck by Matterhorn, the eighth-place finisher who broke inwardly.
Kept inside early by jockey Victor Espinoza, California Chrome was third on the first turn before dropping back to fourth while racing in a pocket. Medal Count slipped inside California Chrome on the backstretch, briefly relegating the 4-5 favorite to fifth.
With a half-mile to travel, California Chrome began to inch up while racing two wide and offered a four-wide bid coming into the stretch. The Derby and Preakness winner, however, lacked his usual kick and never made the lead, instead having to settle for a share of fourth place as Tonalist nipped Commissioner on the wire to prevail by a head.
Sherman, 77, said California Chrome will need time to recover the Triple Crown experience and from the injury but will be ready to compete during the final half of the 2014 racing season.
"[Matterhorn and California Chrome] bumped together and [Matterhorn] reached over on [California Chrome's] right front and just hit his hoof and took a big chunk out of it," said Sherman. "We can heal that up. It will take about two to three weeks, then we'll stop on him for six or seven weeks and then give him some pasture time. So Chrome is going to have a needed rest. It's been a tough campaign for him."
While disappointed in California Chrome's defeat, Sherman said he accepts the bad luck as part of the game.
"[The cut] couldn't have helped him any, and I was watching the race and down the backside he was in all kinds of trouble," said Sherman. "Victor was trying to get him out. They were pushing him down in there and he had no racing room. But, hey, listen, the horse has had six straight races with perfect trips. Sometimes, in this game, when you have a bad trip, that's part of it. Racing luck means a lot. Being a former rider, I know that."
Sherman said he likely will keep California Chrome in California for the remainder of the year, with the Breeders' Cup at Santa Anita being his long-range objective and the Grade 1 Pacific Classic in August at Del Mar being a possible target in the interim.
"I think I'm going to keep him in California and get him ready for the Breeders' Cup," said Sherman. "He loves the Santa Anita track, he runs his best his races down there. It is home for us. I'm sure he'll enjoy that."
Sherman said that he is grateful for having had the opportunity to win the Kentucky Derby and Preakness, despite the rigors of the Triple Crown and the disappointment at the end.
"Your horse needs time to recoup," said Sherman. "I'm here and I'm just thankful that I could run in a Triple Crown. It's been a great ride for me. Hey, listen, it's been a super year."
An NYRA press release
Comments