Breeders' Cup Legends Cavalcade Nov. 4-5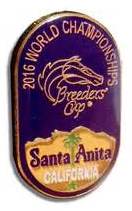 Fans attending the 2016 Breeders' Cup at Santa Anita Park will have the unique opportunity to meet with some of racing's brightest stars at the first-ever Breeders' Cup Legends Cavalcade Nov. 4-5.
Hall of Fame jockeys Pat Day and Laffit Pincay Jr. will host a lineup of racing legends and Breeders' Cup champions, who will meet with fans and sign autographs. Expected appearances include jockeys Mike Smith, Victor Espinoza, Chris McCarron and John Velazquez as well as Zenyatta connections John Shirreffs and Dottie Ingordo. Event coordinator CDP Events Inc., in conjunction with Breeders' Cup Ltd., announced plans for it today, noting that other racing connections and celebrities also are expected to participate.
Along with this opportunity for celebrity access, the Breeders' Cup Legends Cavalcade will offer a fan showcase during the championship weekend. Day and Pincay, who first set the Breeders' Cup stage in 1984 with Angel Cordero in a thrilling three-way photo finish for the inaugural Classic, said they were honored to return to the series as the official hosts for this special experience.
"The Legends Cavalcade is sure to be the start of a Breeders' Cup tradition," said Day, who ultimately won that famous first Classic aboard Wild Again and rode in each of the first 20 Breeders' Cup Championships. "I anticipate a great time meeting fans, sharing stories and enjoying the excitement of Breeder's Cup at the Great Race Place."
Pincay, Santa Anita Park's all-time winningst jockey whose 37-year career also includes several Breeders' Cup wins including the 1986 Classic aboard Skywalker, agreed. "I know Breeders' Cup fans will have a terrific experience at my beautiful home track," Pincay said. "And I'm looking forward to introducing them to my fellow riders and racing friends."
Special guest Art Sherman, trainer for the very accomplished and wildly popular California Chrome, is also scheduled to appear at the Legends Cavalcade. The duo will be attempting their first Breeders' Cup win after amassing more than $12 million in career earnings with notable wins in the Dubai World Cup, Kentucky Derby and Preakness Stakes. The 2014 Horse of the Year and Secretariat Vox Populi Award is expected to be the post-time favorite for Saturday's main event in the $6 million Breeders' Cup Classic.
Along with the Legends Cavalcade, the Breeders' Cup Legends Tent will feature assorted racing photography, artwork, and memorabilia, including rare mint condition inaugural 1984 Breeders' Cup programs and timely "Vote Chrome for President" buttons. The Legends Tent will be located adjacent to the Champions Gift Shop near the Clubhouse entrance at Santa Anita, with celebrity appearances scheduled during the race days on Breeders' Cup Friday and Saturday. An up-to-date daily schedule for celebrity appearances will be posted on www.BreedersCup.com and also available at the Breeders' Cup Legends tent.
Tags: 2014 Horse of the Year, 2016 Breeders' Cup, Angel Cordero, Art Sherman, California Chrome, Chris McCarron, Dottie Ingordo, Dubai World Cup, Great Race Place, Hall of Fame jockey, jockey, John Shirreffs, John Velazquez, Kentucky Derby, Laffit Pincay Jr, Legends Cavalcade, Mike Smith, Pat Day, Preakness Stakes, Santa Anita Park, Secretariat Vox Populi Award, trainer, Victor Espinoza, Zenyatta
Comments