Kentucky Farms announce 2017 stallion fees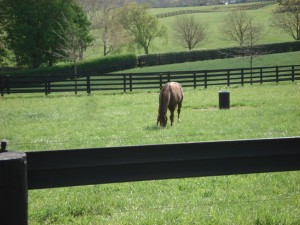 Many of the Kentucky Farms have announced their 2017 stallion fees. We have listed the farms with the 2017 fees along with their 2016 fees (if applicable) – some fees have gone up, others not.
Keep in mind, that many farms also have different incentives and bonuses which may not reflect all finances involved but we thought you would get an idea of the bloodstock world by seeing the fees. Some of the stallions only spend part of the year in Kentucky and in the Southern Hemisphere the balance of the year. The stallions at these farms are from the top levels of horse racing: Kentucky Derby winners, Preakness Stakes winners, Belmont Stakes winners, Travers Stakes winners, Breeders' Cup winners, and Grade 1 winners. Please check directly with the Farm regarding breeding with any stallion.
Adena Springs Farm
Horse, 2017 Fee, 2016 Fee
Awesome Again Private $75,000
Capo Bastone $4,000 $4,000
City Wolf $4,000 $4,000
Fort Larned $7,500 $7,500
Ghostzapper $75,000 $60,000
Macho Uno $15,000 $15,000
Mucho Macho Man $10,000 $15,000
Point of Entry $20,000 $25,000
Airdrie Stud
Horse, 2017 Fee, 2016 Fee
Cairo Prince $15,000 $15,000
Creative Cause $15,000 $15,000
Include $10,000 $10,000
Istan $5,000 $6,000
Majesticperfection $15,000 $20,000
Mark Valeski Private $2,500
Summer Front $10,000 $10,000
Upstart – New for 2017 $10,000
Ashford Stud
Horse, 2017 Fee, 2016 Fee
Air Force Blue – New for 2017 $25,000
American Pharoah Private $200,000
Competitive Edge $10,000 $12,500
Declaration of War $35,000 $40,000
Fusaichi Pegasus $7,500 $7,500
Giant's Causeway $75,000 $85,000
Lookin At Lucky $17,500 $20,000
Magician $7,500 $10,000
Munnings $25,000 $25,000
Shanghai Bobby $25,000 $15,000
Stay Thirsty $10,000 $10,000
Tale of the Cat $30,000 $30,000
Uncle Mo $150,000 $75,000
Vancouver – New for 2017 $15,000
Verrazano $17,500 $20,000
Calumet Farm
Horse, 2017 Fee, 2016 Fee
English Channel $25,000 $25,000
Oxbow $20,000 $17,500
Big Blue Kitten – New for 2017 $15,000
Americain $10,000 $7,500
Red Rocks $10,000 $12,500
Smarty Jones $7,500 $7,500
Aikenite $5,000 $7,500
Grey Swallow $5,000 $7,500
Musketier $5,000 $7,500
Optimizer – New for 2017 $5,000
Point Given $5,000 $7,500
Raison D'Etat $5,000 $7,500
Ready's Image $5,000 $7,500
Real Solution $5,000 $7,500
Slumber – New for 2017 $5,000
War Correspondent – New for 2017 $5,000
Eye of the Leopard $2,500 $7,500
Snapy Halo $2,500 $7,500
Claiborne Farm
Horse, 2017 Fee, 2016 Fee
Algorithms $7,500 $5,000
Blame $25,000 $25,000
Data Link $7,500 $7,500
First Samurai $15,000 $15,000
Flatter $35,000 $30,000
Ironicus- New for 2017 $7,500
Lea $12,500 $12,500
Orb $25,000 $25,000
Stroll $5,000 $5,000
Trappe Shot $7,500 $10,000
War Front $250,000 $200,000
Darby Dan Farm
Horse, 2017 Fee, 2016 Fee
Dailed In $15,000 $7,500
Jersey Town $5,000 $10,000
Perfect Soul $2,000 $7,500
Run Away and Hide $5,000 $7,500
Shackleford $15,000 $20,000
Sky Kingdom $5,000 $5,000
Tale of Ekati $7,500 $15,000
Tapiture $7,500 $7,500
Darley America Farm
Horse, 2017 Fee, 2016 Fee
Nyquist – New for 2017 $40,000
Medaglia d'Oro $150,000 $150,000
Bernardini $100,000 $100,000
Hard Spun $45,000 $45,000
Street Sense $45,000 $45,000
Animal Kingdom $30,000 $35,000
Street Boss $17,500 $12,500
Midshipman $8,500 $8,500
Elusive Quality $30,000 $40,000
Girolamo $10,000 $15,000
Gainesway Farm
Horse, 2017 Fee, 2016 Fee
Afleet Alex $10,000 $12,500
Birdstone $5,000 $5,000
Empire Maker $85,000 $100,000
Hat Trick $5,000 $7,500
Karakontie $15,000 $15,000
Tapit $300,000 $300,000
Tapizar $15,000 $15,000
To Honor and Serve $10,000 $15,000
Hill 'n' Dale Farm
Horse, 2017 Fee, 2016 Fee
Atreides $5,000 $5,000
Bayern $15,000 $15,000
Curlin $150,000 $100,000
Flashback $7,500 $7,500
Kantharos $15,000 $5,000
Maclean's Music $8,500 $6,500
Midnight Lute $20,000 $25,000
New Year's Day $3,500 $5,000
Power Broker $3,500 $5,000
Secret Circle $5,000 $5,000
Stormy Atlantic $15,000 $25,000
Violence $15,000 $15,000
Lane's End Farm
Horse, 2017 Fee, 2016 Fee
Candy Ride $60,000 $60,000
City Zip $50,000 $40,000
Honor Code $40,000 $40,000
Langfuhr $5,000 $5,000
Lemon Drop Kid $40,000 $40,000
Liam's Map $25,000 $25,000
Mineshaft $25,000 $25,000
Morning Line $10,000 $10,000
Mr Speaker $10,000 $10,000
Noble Mission $25,000 $25,000
Quality Road $35,000 $35,000
The Factor $25,000 $25,000
Tonalist $30,000 $30,000
Twirling Candy $20,000 $15,000
Union Rags $50,000 $35,000
Ramsey Farm
Horse, 2017 Fee, 2016 Fee
Kitten's Joy $100,000 $100,000
Spendthrift Farm
Horse, 2017 Fee, 2016 Fee
Archarcharch $6,000 / $7,500 $7,500
Awesome Patriot $2,500 / $3,500 $3,500
Brody's Cause – New for 2017 $12,500
Can the Man $3,500 / $3,500 $5,000
Cinco Charlie – New for 2017 $5,000
Cross Traffic $7,500 / $10,000 $9,000
Danza $4,000 / $4,000 $5,500
Dominus $7,500 / $3,500
Flat Out $7,000 / $8,500 $8,500
Goldencents $15,000 / $15,000
Hampton Court $4,000 / $6,000 $5,500
Hit It a Bomb – NEW $7,000 $8,500,
Into Mischief $75,000 / $45,000
Itsmyluckyday $5,000 / $6,500 $6,500
Jimmy Creed $5,000 / $7,500 $6,500
Liaison $5,000 / $6,500 $6,500
Lord Nelson – New for 2017 $25,000
Malibu Moon $75,000 / $95,000
Medal Count $3,500 / $5,000
Paddy O'Prado $3,500 / $5,000
Palace $6,000 / $6,000
Race Day $6,000 / $7,000
Shakin It Up $5,000 / $10,000
Temple City $10,000 / $15,000
Tizway $7,500 / $7,500
Warrior's Reward $7,500 / $10,000
Wicked Strong $10,000 / $10,000
Taylor Made Stallions
Horse, 2017 Fee, 2016 Fee
Astrology $6,500 $6,500
California Chrome – NEW $40,000 —
Graydar $12,500 $15,000
Mshawish – NEW $20,000 —
Northern Afleet $6,500 $6,500
Three Chimneys Farm
Horse, 2017 Fee, 2016 Fee
Will Take Charge $30,000 $30,000
Palace Malice $20,000 $20,000
Sky Mesa $15,000 $20,000
Strong Mandate $10,000 $10,000
Fast Anna $7,500 $7,500
Caleb's Posse $5,000 $5,000
WinStar Farm
Horse, 2017 Fee, 2016 Fee
Artie Schiller $10,000 $10,000
Bodemeister $25,000 $30,000
Carpe Diem $25,000 $25,000
Commissioner $7,500 $75,000
Congrats $20,000 $20,000
Constitution $25,000 $25,000
Daredevil $7,500 $12,500
Distorted Humor $80,000 $100,000
Exaggerator – NEW $30,000 —
Fed Biz $10,000 $12,500
Gemologist $25,000 $15,000
More Than Ready $60,000 $50,000
Outwork – NEW $15,000 —
Overanalyze $10,000 $10,000
Paynter $20,000 $20,000
Pioneerof the Nile $110,000 $125,000
Revolutionary $7,500 $7,500
Speightster – NEW $10,000 —
Speightstown $100,000 $100,000
Super Saver $50,000 $65,000
Take Charge Indy $15,000 $17,500
Tiznow $60,000 $60,000
Tags: Adena Springs, Airdrie Stud, Ashford Stud, Belmont Stakes, Breeders' Cup, Calumet Farm, Claiborne Farm, Darby Dan Farm, Darley America, Gainesway Farm, Hill 'n' Dale Farm, horse racing, Kentucky Derby, Kentucky Farms, Lane's End Farn, Preakness Stakes, Ramsey Farm, Spendthrift Farm, stallion fees, Taylor Made Stallions, Three Chimney Farm, Travers Stakes, Winstar Farm
Comments