California Chrome – the morning after winning the Kentucky Derby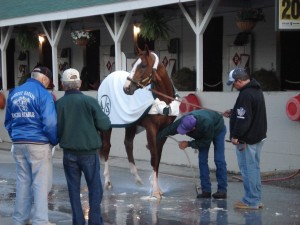 It was 5:30 AM on the backstretch at Churchill Downs and anyone who knows the 2014 Kentucky Derby winning trainer Art Sherman know that he will be in his barn. He did not disappoint – he was there at Barn 20 with his winner.
About 7 AM, media and photographers watched as California Chrome came outside and had his feet washed. He kept his blanket on during the foot wash. If you were on the downside of the water, the wraps on his legs became part of your shoes and pants.
Art checked over his horse in the bright sunlight and declared all was fine.
As California Chrome started towards the barn, he stopped. Chrome rivaled Vogue models as he posed for photos. You definitely felt he knew he had won horse racings first leg of the Triple Crown.
As California Chrome walked the shed row, questions from the group of reporters started.
Art Sherman said that "He came out of the race and looks really good. He continued that he expects that Steven Coburn and Perry Martin's Kentucky Derby winner would be ready for the Preakness Stakes.
"Two weeks, I've never run him back that quick," Sherman said. "I'm not that kind of guy. I thought even a month after the Santa Anita Derby to the Kentucky Derby was kind of quick, but he seems to respond and come back."
Then his was gone – back to his stall for some rest.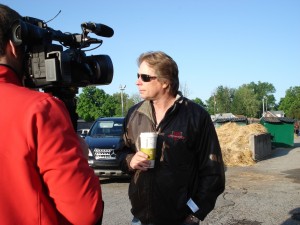 Next, we went to visit the Dallas Stewart trained second place finisher, Conmmanding Curve. As if on cue, Dallas pulled up to the barn. TV news crews soon followed to hear about his feelings on his horse coming in second. Golden Soul, the horse Dallas trained for the 2013 Kentucky Derby also came in second.
Then it was over to Wagners Pharmacy on Fourth Street for breakfast. Tables filled up quickly and we shared our table with Dallas Stewart's party. Wagners Pharmacy has been "the place" for racetrackers to eat forever and next to Churchill Downs.
Went by the Kentucky Derby Museum and it was abuzz with people and visitors who had been to Derby.
Next year make sure you plan to be in Kentucky for the first Saturday in May and make your reservations early for Kentucky Derby Tours at KentuckyDerbyTours.com
You cannot get much closer to the action – than our seats. Watch our website for the updated photos for the 2014 Kentucky Derby.
Tags: 2014 Kentucky Derby, Art Sherman, Backstretch, California Chrome, Churchill Downs, Conmmanding Curve, Dallas Stewart, first Saturday in May, Golden Soul, horse racing, Kentucky Derby Museum, Kentucky Derby Tours, Kentucky Derby winner, Perry Martin, Preakness, Santa Anita Derby, Steven Coburn, trainer, Triple Crown, Wagners Pharmacy
Comments