2014 Kentucky Derby is in the record books
With the 2014 Kentucky Derby now in the record books, we thought you would enjoy hearing about what it would have been like to be with Kentucky Derby Tours this year and see some photos.
It is really hard to explain the electricity that goes with the "most exciting two minutes in sports" but we will try.
The day of horse racing started off with the first race at 10:30 AM and all day you feel and see the crowd getting larger and larger. Churchill Downs on Derby Day is the only time we have ever been at a racetrack and seen the signs saying 80 MTP (minutes to post).
As the day goes on and time grows closer for the Derby, you notice people around watching the backside to see if the owners/trainers have started getting their "entourage" together to make the walk from the barns to the paddock with their Kentucky Derby contender.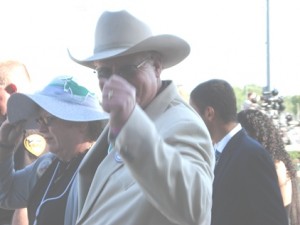 Then the long walk starts from the barns – you watch as the horses go by our seats with a groom wearing their number for the Derby. Photo on right is of California Chrome's owners Carolyn and Steve Coburn with Steve giving us a fist pump as he walked past our box. You end up looking from program to number to make sure you know which horse is in front of you.
Next, the bugler sounds and the horses step onto the racetrack and the crowd goes really wild. Then, as they play "My Old Kentucky Home", there is a chill that goes through most of the crowd. We watch as the post parade passes within inches of our seats -here is California Chrome passing by our box.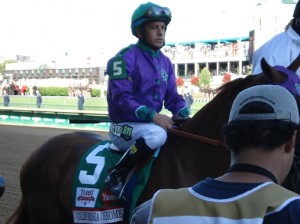 The two minutes of the race go by quickly but as you see the winner pass the finish line, you feel like the best horse today won – California Chrome! You also begin to realize how wonderful the horse is that was able to accomplish what only 140 horses have done before – WIN the Kentucky Derby.
The horses come back from their runoff and many of the jockeys will wave to the crowd.
But then, you see the outrider come around the first turn with the winner in hand. The crowd goes wild! There is bedlam as photographers try to get into their spots for the best photos. The owners appear on the jumbo-tron and then you can see them as they cross the racetrack to go to the winners Circle.
After the ceremonies in the winners circle, the winning horse leaves to make his return to the backside barns. You watch him as he walks and wonder if he knows he just entered a sacred club – this year I think he KNEW!
Comments