History of Kentucky Derby Hats 1875 – 2014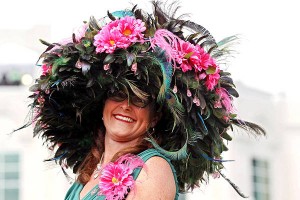 The story of Kentucky Derby hats — the wide-brimmed, straw fashion statements that ride into Churchill Downs each year atop the heads of well-heeled spectators — is a story of American enterprise.
Col. Meriwether Lewis Clark Jr., the founder of the Kentucky Derby wanted to transform the racetrack from a place of ill-repute to place of high-society—and therefore high fashion.
Inspired by trips to London's Epsom Derby and Paris' Grand Prix — posh events that attracted an elegant crowd — Clark sought in the 1870s to transform American racetracks from places associated with immorality and vice to venues that might attract a wealthier, more noble set. With the help of his wife, he went on a campaign throughout Louisville, Ky. to convince his target clientele that the new race track was in fact a place for the upper-class.
More than 10,000 spectators attended the first Kentucky Derby on a sunny spring Monday in 1875. The New York Times reported that, "the grand stand was thronged by a brilliant assemblage of ladies and gentlemen" and the center field was crammed with carriages. While it would be two more years before the first international celebrity would attend the race (Polish actress Helena Modjeska), it was viewed as a major success.
"Women coordinated their hats, dresses, bags, their shoes and their parasols," said Ellen Goldstein, a professor at the Fashion Institute of Technology. "To go to a horse racing event was really a regal affair. It was just as important as going to a cocktail party, or a ball.
Like today, the media took great interest in who attended the race and what they were wearing. National newspapers published dizzying lists of the notable spectators and their guests, devoting as much ink to the fashion and pageantry as they did to the race itself.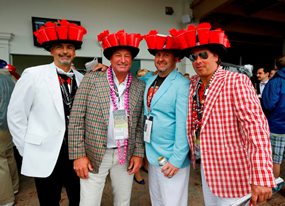 While fashion always played a central role in the Derby, the flamboyant titanic hats that have become routine photos at each year's races didn't make their debut until the 1960s, when social fashion norms loosened up and the ubiquity of television gave women an added incentive to stand out in the crowd.
"The hats became larger, more avant-garde, formalities dropped away, the hats had more prints, they were brighter" according to Wendy Treinen, a spokesperson for the Kentucky Derby Museum.
While the devotion to Derby headwear dropped off a bit in the 70s and 80s, it picked up again in the 90s, and in the last decade there has been significant surge as evident in news reports. Who knows what hats we will see at the 2014 Kentucky Derby?
Comments