History of the Kentucky Oaks and the Survivors Parade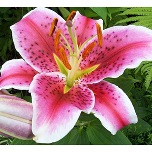 The Kentucky Oaks is a stakes race for three-year-old Thoroughbred fillies staged annually in Louisville, Kentucky. The race currently covers 1 1⁄8 miles at Churchill Downs; the horses carry 121 pounds. The Kentucky Oaks is held on the Friday before the Kentucky Derby each year. The winner gets a $600,000 purse and a large garland of lilies, affectionately called the "Lillies for the Fillies." A silver Kentucky Oaks Trophy is presented to the winner.
The first running of the Kentucky Oaks was on May 19, 1875 when Churchill Downs was known as the Louisville Jockey Club. The race was founded by Meriwether Lewis Clark, Jr. who also founded the Kentucky Derby, the Clark Handicap, and the Falls City Handicap. The Oaks and the Derby are the oldest continuously contested sporting events in American history, and the only horse races to be held at their original site since their conception. The Kentucky Oaks was modeled after the British Epsom Oaks. In the first Kentucky Oaks, the horse Vinaigrette won the then 1½ mile race in a time of 2:39¾, winning a purse of $1,175.
The Kentucky Oaks is considered by some to be among the most popular horse races in American horse-racing society due to its high attendance. In 1980 it was about 50,000 people and by 1989, it had reached about 67,000 people. Now it attracts about 110,000 people in attendance. The attendance at the Kentucky Oaks ranks third in the continent and usually surpasses the attendance of all other stakes races including the Belmont Stakes and the Breeders' Cup. The attendance of the Kentucky Oaks typically only trails the Kentucky Derby and the Preakness Stakes.
The "Filly Triple Crown", known as the Triple Tiara of Thoroughbred Racing, is a series of three races at the Belmont Park and Saratoga Race Course. The National Thoroughbred Racing Association (NTRA) has considered changing the Triple Tiara series to the three counterparts of the Triple Crown.
For the sixth year, there will be a Survivors Parade presented by Kroger that will take place on Kentucky Oaks Day, Friday, May 2nd, 2014! The Survivors Parade is a march of breast and ovarian cancer survivors, which takes place on Churchill Downs' historic racetrack. This year, 140 breast and ovarian cancer survivors will participate in the parade directly prior to the 140th running of the Longines Kentucky Oaks race.
Kentucky Oaks television coverage will be on NBC Sports Network from 5 to 6 PM on Friday, May 2nd.
Comments