California Chrome to receive the 2014 Secretariat Vox Populi Award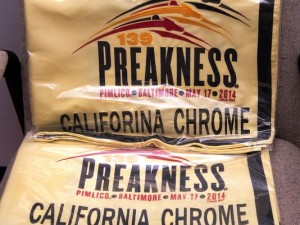 California Chrome, the winner of both the 2014 Kentucky Derby and Preakness, has been selected to receive the 2014 Secretariat Vox Populi, or "Voice of the People," Award. The award recognizes the horse whose popularity and racing excellence best resounded with the American public and gained recognition for Thoroughbred horse racing.
California Chrome, who basked in the national spotlight throughout the year and built a coast-to-coast fan base of "Chromies," was the clear favorite among the record number of voters in the Vox Populi online poll. He was one of a select group of nominees submitted by the Vox Populi Committee and Mrs. Penny Chenery, owner of beloved Triple Crown champion Secretariat in whose name she established the award in 2010.
Named for his flashy white markings, the chestnut colt's beginnings were humble for a future Triple Crown contender. His owners, Steve Coburn and Perry Martin, established their modest racing operation as DAP, or "Dumb Ass Partners," after a fellow horsemen's colorful description of their decision to purchase California Chrome's dam Love the Chase for $8,000. The future champion was produced when they later bred her to the affordable stallion Lucky Pulpit, who had limited success visiting a winner's circle.
Trainer Art Sherman and jockey Victor Espinoza guided California Chrome during his impressive 3-year-old season, with earnings totaling $4 million and six wins in nine 2014 starts, including the Kentucky Derby and the Preakness as well as the Santa Anita Derby and the Hollywood Derby.
"This is such an amazing honor and we are so grateful to receive this award from Mrs. Chenery and the fans," Coburn said. "We have always said Chrome is the 'People's Horse' and we are thrilled that the public feels the same way we do about him."
California Chrome now joins previous Vox Populi winners Mucho Macho Man (2013), Paynter (2012), Rapid Redux (2011) and Zenyatta (inaugural 2010).
"Everyone loves a Cinderella story, and this one was no exception," said Mrs. Chenery. "California Chrome, a proven champion and formidable competitor, reminded us that it doesn't matter from whence we came but rather how we dance when we get to the ball. Furthermore, his inspiring story and engaging popularity reached beyond the racetrack stands and into the conversation of a nation. I am looking forward to seeing California Chrome build upon his success during his 4-year-old season."
Mrs. Chenery's designees will present the custom-made Vox Populi trophy to California Chrome's connections on Jan. 10 at Santa Anita Park. The California Chrome team is scheduled to be at the presentation and to sign autographs beginning at 11:00 a.m. The ceremony will be broadcast live on HRTV. In conjunction with the award, DAP is donating race-worn silks from California Chrome's winning effort in the San Felipe Stakes for auction with proceeds to benefit the Secretariat Foundation and other equine charities. Story by Press Release
Comments