California Chrome works out in front of Saturday Los Alamitos crowd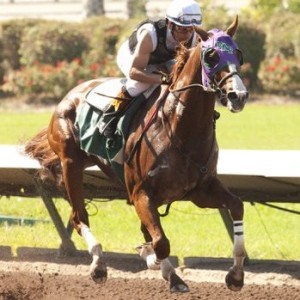 Los Alamitos Race Course again did a press release for a California Chrome workout. Readying for his return to racing later this month in Pennsylvania, 2014 Kentucky Derby and Preakness winner California Chrome worked a strong six furlongs between races Saturday at Los Alamitos – his home track – in front of an enthusiastic and appreciative crowd.
Turning in what trainer Art Sherman called his best work since he was put back in training, the 3-year-old Lucky Pulpit colt, who was accompanied by regular jockey Victor Espinoza, drilled six furlongs in 1:10.37 and galloped out seven-eighths of a mile in 1:24.
California Chrome is owned by Perry Martin and Steve Coburn, who was at Los Alamitos Saturday. California Chrome, who hasn't raced since finishing in a dead heat for fourth in the Belmont Stakes June 7, is scheduled to make his next start in the Grade II, $1 million Pennsylvania Derby Sept. 20 at Parx.
A large amount of California Chrome fans – known as Chromies – were in attendance, some carrying signs honoring the California-bred who has won eight of 13 and earned $3,532,108.
After leaving Sherman's stable, California Chrome, who has resided here since early this year, received a loud ovation when he passed in front of the grandstand prior to turning around to begin his work, then was greeted warmly again when he returned after completing his exercise.
"I thought it was a fantastic work,'' said Sherman. "Actually better than I thought it was going to be. I figured if he went in 1:12 and change or 1:13 I would be really happy.
"You bring him out here in front of the people and he thinks he's going to run he's just a different horse. This is by far the best work since he's come back. This was a test for me personally because he's going to have to run in two weeks. We'll get another strong work into him before he leaves and I just hope that will do the trick going a mile and an eighth.
"I thought (the fans) were great. They were all applauding. It makes it fun. Los Alamitos is his home track and we're happy to be here.''
Sherman said California Chrome will have his final Los Alamitos work Saturday, Sept. 13 before heading to Bensalem, Pa. The three-time Grade I winner will ship to Parx Tuesday, Sept. 16.
Comments