Churchill Downs looking for a new announcer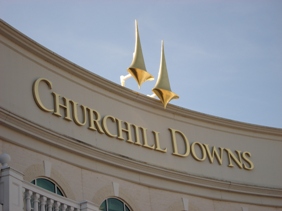 Churchill Downs has only had seven track announcers in its history, and now the track will be looking for its third announcer in as many years when their spring racing meet begins in 2015. So far we have not heard of any names flying around the track but you can bet that Churchill Downs is searching already for a new announcer.
Larry Collmus, who has the job this year, is headed to replace Tom Durkin on the New York circuit, meaning you'll hear a new voice under the historic Twin Spires.
Thought you might enjoy seeing the list:.
Larry Collmus (2014) Larry Collmus came to Churchill Downs with Kentucky Derby experience after serving as NBC Sports' Triple Crown announcer. His new post, succeeding the legendary Durkin, is perhaps the most coveted track announcing job in the nation.
Mark Johnson (2009-2013) The British announcer's four-year run at Churchill ended when the track decided to switch to Collmus. He's continued calling races, mainly of them back in Europe.
Luke Kruytbosch (1999-2008) The Idaho native, known for starting each call with, "They're off and running," died at age 47. His ashes were spread in the Derby winner's circle.
Kurt Becker (1997-1998) Also a motorsports announcer, Kurt Becker called during his brief tenure Silver Charm's 1997 Derby win and Real Quiet's run in 1998. He's also Keeneland's only ever public address announcer. Kurt Becker, the "Voice of Keeneland," was the first race caller that Keeneland employed after installing their public-address system in 1997.
Mike Battaglia (1978-1996) Best known these days as an odds maker and NBC broadcaster, Mike Battaglia's first Derby call was the 1978 battle involving the most recent Triple Crown winner, Affirmed, and his top rival Alydar. Mike Battaglia was in the 2010 movie 'Secretariat' as well as the 1999 film 'Nice Guys Sleep Alone'.
Chic Anderson (1961-1977) Also an announcer in New York and California, Chic Anderson is perhaps most remembered for his calls during Secretariat's Triple Crown bid where he said "He is moving like a tremendous machine!" I had the pleasure of spending some time with Chic's widow on Sunset Key off Key West, Florida and talk about racing.
Gene Schmidt (1940-1960) The first track announcer in Churchill Downs history called Derbys for four eventual Triple Crown winners (Whirlaway, Count Fleet, Assault and Citation).
The new race caller at Churchill Downs will start the spring meet, which begins April 25, 2015. Some names thrown into the hat and mentioned on social media include Kurt Becker, Bill Downes, Frank Mirahmadi, Bobby Neuman, and Travis Stone.
Comments