California Chrome's full sister to race at Santa Anita Park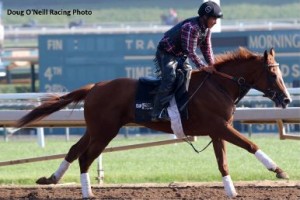 R Sunday Surprise is a full sister to California Chrome, who has won the Kentucky Derby and the Dubai World Cup. She is a 2-year-old filly and is trained by Doug O'Neill, who won this years Kentucky Derby with Nyquist. With expectations running high, r Sunday Surprise is set to make her first start Thursday at Santa Anita Park in Arcadia, CA.
"All her works have been real willing," O'Neill told the Daily Racing Form. "We haven't seen her get tired yet in any of her works. I don't know if she'll win first time out. She looks like a filly that, as the races go on and she gets experience, we're going to have a lot of fun with."
Rafael Bejarano will ride R Sunday Surprise in her first start which is a maiden special weight event. Her most recent workout was a three-furlong in :36.20.
The filly is by Lucky Pulpit and out of Love the Chase, by Not For Love. She was bred by Perry Martin and Steve Coburn, who have since dissolved their partnership. She is still owned by a group that includes Coburn.
A third full sibling is Hope's Love, a 3-year-old filly. Hope's Love is trained by Steve Sherman and owned exclusively by Perry Martin. While second in her first career start, Hope's Love has been unplaced in four starts so far this year.
R Sunday Surprise has some big horseshoes to fill to match her big brother's ongoing legacy. California Chrome is also a Horse of the Year winner. Secretariat's owner Penny Chenery spoke about California Chrome when he won the 2014 Secretariat Vox Populi Award, "Everyone loves a Cinderella story, and this one was no exception. California Chrome, a proven champion and formidable competitor, reminded us that it doesn't matter from whence we came but rather how we dance when we get to the ball. Furthermore, his inspiring story and engaging popularity reached beyond the racetrack stands and into the conversation of a nation."
Comments