Churchill Downs to add Starting Gate Suites Rooftop for 2019 Derby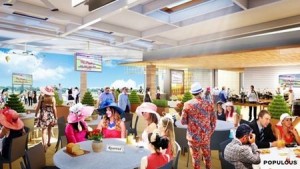 Track owner Churchill Downs Incorporated has announced plans for a $5 million capital investment that will expand the Starting Gate Suites through the construction of a new 20,000-square-foot rooftop garden which will deliver a unique hospitality experience with exclusive sightlines and access for more than 500 ticketed guests.
The innovative and picturesque rooftop space, located high atop the Starting Gate Suites on the north end of the 190-acre facility at Churchill Downs, will provide covered reserved seating for more than 250 guests and approximately 250 additional Standing Room Only access tickets. More information on the individual tickets to the new space for the 2019 Kentucky Derby Day will be made available during the online ticket sale later this year.
Guests on the rooftop will be able to gaze at an authentic panoramic view of Louisville while enjoying access to several upscale bars and various food offerings in a cozy yet party-like atmosphere. There also will be a tiered balcony for spectacular viewing of Churchill Downs' races, including a prime observation that overlooks the start of the Kentucky Derby at the top of the famed homestretch.
"Rooftop bars are a hot trend in the hospitality industry, and the addition of this sensational new space atop our Starting Gate Suites will be a great benefit to our facility and deliver another unique guest experience at Churchill Downs," said Kevin Flanery, President of Churchill Downs Racetrack.
The Starting Gate Suites debuted for the 2018 Kentucky Derby. It was constructed for $37 million and provided more than 1,800 new seats through the addition of 32 luxury suites, interior dining tables and third-floor Grandstand seats.
Construction on the Starting Gate Suites Rooftop project will begin after the Nov. 2-3 Breeders' Cup World Championships and be completed prior to the 2019 Kentucky Derby Presented by Woodford Reserve, which will be staged for the 145th consecutive year on Saturday, May 4th. Populous is the architect and Calhoun Construction will serve as the project manager
Comments