Commanding Curve, 2nd in 2014 Kentucky Derby to compete in AEC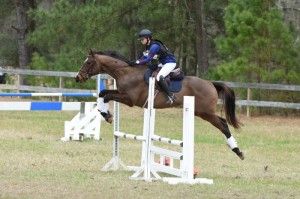 Maddy Cracknell has a few things in common with Olympic snowboarder, Shaun White.
First off, the 15-year-old aspiring eventer has big championship dreams. And second, she's also a member of the "Zipper Club", a movement created for open-heart surgery survivors.
Maddy had her first open-heart surgery when she was just six weeks old, to repair an AV canal defect. She had her second one at eight years old to fix a pulmonary valve. She's set to have her third surgery likely later this year, due to ongoing complications from the heart defects she was born with.
But Maddy doesn't let it slow her down. Especially not this year, with the American Eventing Championships on the horizon. She qualified to compete for the first time with an off-track Thoroughbred she's brought along with the help of her trainer, Lillian Heard.
Maddy will be competing in the junior Beginner Novice division at the championships, which takes place at the Kentucky Horse Park Aug. 27- Sept. 1, aboard Commanding Curve. The dark bay Thoroughbred gelding has his own claim to fame – he finished second in the Kentucky Derby in 2014 behind California Chrome.
Despite Maddy's health problems, she's been riding most of her life.
Maddy at 8 years old, after her second heart surgery.
"My mom was very concerned about me doing a running sport," recalls Maddy, who is from Pennsylvania. "So she thought, 'I'll just throw her on a horse.'"
Maddy's mom, Wendy Ott, admits she had "no idea what she was getting into" at the time.
"I thought the horse did all the work," Wendy says now with a laugh.
Maddy started riding at a hunter/jumper barn, and then got into pony racing. She eventually found an event trainer and fell in love with the discipline.
She pulled the bay gelding "Curve" out of a field as a six year old when she was just 13. Maddy describes restarting him as "a lot of work".
"He was so slow in the beginning. You'd have know idea he almost won the Kentucky Derby," she says about her horse.
But Maddy never gave up. She helped Curve learn to jump and get over his fear of natural obstacles on the cross-country course. And her hard work started to pay off in the show ring.
There are days when she feels winded or sometimes she can still have an "episode" related to her heart problem, Maddy says.
"But I know my boundaries," she explains. " I know how far I can push myself."
Maddy and Curve will go to the AECs on their own, while their trainer, Lillian, prepares for the five-star Burghley Horse Trials the following week.
But Maddy isn't nervous. She says she's confident she'll reach her goal of just finishing the event. Plus she's just looking forward to riding at the legendary Kentucky Horse Park.
But there is a bet on the line.
"Maddy told me a year-and-a-half ago she wanted a tattoo. This was before she'd done a single recognized event. I told her then, if you win one of your divisions in the AECs in the next four years, I'll buy you the tattoo," her mom Wendy describes.
"At the time, I didn't think we'd ever get to this point."
Reprint from the Heels Down Magazine
Comments