FOX Sports to carry the Travers Stakes live on August 24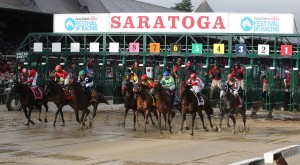 The New York Racing Association and FOX Sports announced April 11 that the 150th running of the grade 1, $1.25 million Runhappy Travers will be carried live on the FOX Broadcast Network as part of a special one-hour telecast on Aug. 24 at 5 p.m. (ET) from historic Saratoga Race Course.
Travers Day 2019 expands on the commitment FOX Sports has made to NYRA and marks the first time since 1999 that horse racing will be seen on the airwaves of the FOX Broadcast Network.
First held in 1864, the Travers is the most prestigious stakes race for 3-year-olds outside of the Triple Crown series and the traditional centerpiece of the annual Saratoga meeting. The race is named for William R. Travers, the first president of Saratoga Race Course who won the inaugural running in 1864 with a horse named Kentucky.
"Travers Day is the greatest day of racing's greatest meet, and our team can't wait to come to Saratoga to present both the Runhappy Travers on FOX and a full afternoon of graded stakes racing on FS2," said Michael Mulvihill, FOX Sports executive vice president, research, league operations & strategy.
Always one of the biggest and most anticipated days on the racing calendar, the 150th Runhappy Travers will be one of six grade 1 stakes on Travers Day, which includes the $1 million Sword Dancer (G1T), the $700,000 Personal Ensign (G1), the $600,000 Forego Stakes (G1), the $500,000 H. Allen Jerkens presented by Runhappy (G1), and the $500,000 Ketel One Ballerina Stakes (G1). These major stakes races leading up to the Travers will air on an expanded edition of Saratoga Live on FS2.
"FOX has provided us with a fantastic opportunity to air the 150th running of the Runhappy Travers on the network that is home to some of the biggest events in all of sports," said Tony Allevato, president of NYRA Bets & executive producer for NYRA TV. "We're looking forward to a fantastic Travers show featuring the best broadcast team in the sport matched with the technological innovations and creativity found on FOX."
NYRA and FOX Sports began their collaboration during the summer of 2016 with the launch of Saratoga Live airing on FS2. In November of 2018, NYRA and FOX Sports announced a new long-term television programming deal to make FOX Sports the year-round national television home for NYRA racing. As a result of this groundbreaking deal, FOX Sports will broadcast 500 hours of Thoroughbred racing from NYRA tracks in 2019 including coverage of nearly every race day at Belmont Park and Saratoga.
Comments