Jockeys and Jeans fundraiser at Parx Casino on June 3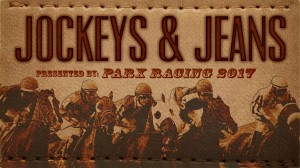 Seventeen Hall of Fame jockeys will attend the fourth annual Jockeys and Jeans fundraiser for the Permanently Disabled Jockeys Fund (PDJF) at Parx Casino and Racing near Philadelphia on Saturday, June 3. The number exceeds the 14 who attended the group's third event at Gulfstream Park last year and will be one of the largest gatherings of Hall of Fame jockeys outside the Saratoga Springs, NY, induction ceremony.
Attending for the first time are famed steeplechase riders Jerry Fishback and Tom Walsh. Former jockey Ramon Dominguez, the featured speaker at the inaugural event at Tampa Bay Downs in 2014, will return as the most recent Hall of Fame inductee. Also new this year is Julie Krone, the only female jockey in the Hall of Fame. Others set to attend are Bill Boland; Pat Day; Earlie Fires; Sandy Hawley; Chris McCarron; Don Pierce; Laffit Pincay, Jr.; Edgar Prado; John Rotz; Bobby Ussery; Jacinto Vasquez; Jorge Velasquez and Manuel Ycaza. Among other star athletes slated to attend are NHL Hall of Famer and legendary hockey goalie Bernard Marcel "Bernie" Parent.
But Krone may be the "Belle of the Ball." She is the first female jockey to win a Breeders' Cup race and the only one to win a Triple Crown race (Colonial Affair in the 1993 Belmont Stakes). She's appeared on Late Night with David Letterman and The Tonight Show with Jay Leno and is one of eight jockeys to have appeared on the cover of Sports Illustrated. In separate spills in 2003 she broke bones in her lower back, fractured several ribs and severely tore several muscles. USA Today later named her one of The Top 10 Toughest Athletes.
"When I got injured it was the worst feeling," she said. "You are in pain, you are unable to work, and you miss the chance to enjoy life with friends. It's even worse when the injuries are permanent and the only help some people have is the PDJF. I thank my lucky stars I walked away from my career in one piece."
At the event she will meet two female former jockeys, Linda Hughes and Sidney Underwood, who, in essence, did not. Each day on Hughes' tiny South Florida farm, the paraplegic still rides her aging quarter horse Tally and helps as he gives free rides to children with brain injuries. When Underwood wheels her chair into Parx's winner's circle for a special photo, she will be on the same hallowed ground she graced as both a jockey and trainer. "I'll be ecstatic," she said. "It was the first track I rode over and the first place I won a race. And it's got to be exciting to see so many people I know."
The two will join permanently disabled jockeys Vincent Amico, Sam Boulmetis, Jr., Tony Dlugoposki, and Jayme LaRocca as special honorees. Jockeys and Jeans is a group of volunteer former jockeys formed in 2014 to raise funds for PDJF, which makes monthly payments to over 60 former jockeys who suffered catastrophic on-track injuries. The Jockeys and Jeans fundraiser is hosted by a different race track each year and to date has raised some $650,000 for the charity.
The event starts at noon. Tickets are $40 at https://www.parxcasino.com/calendar?id=jockeysn-jeans-20170603-1200 and www.jockeysandjeans.com. Silent auction items can be viewed at www.32auctions.com/Jockeysandjeans.
A press release
Tags: Bill Boland, Bobby Ussery, Breeders' Cup, Chris McCarron, Don Pierce, Earlie Fires, Edgar Prado, Hall of Fame jockeys, Jacinto Vasquez, Jayme LaRocca, Jerry Fishback, jockey, Jockeys and Jeans fundraiser, John Rotz, Jorge Velasquez, Julie Krone, Laffit Pincay Jr, Linda Hughes, Manuel Ycaza, Parx Casino and Racing, Pat Day, Permanently Disabled Jockeys Fund, Ramon Dominguez, Sam Boulmetis Jr, Sandy Hawley, Sidney Underwood, Tom Walsh, Tony Dlugoposki, Triple Crown, Vincent Amico
Comments