Kentucky Derby Future Wagering Pool 2 starts Friday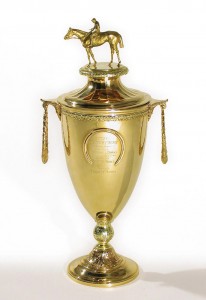 McKinzie, Audible and Mask join reigning 2-year-old champion Good Magic and Bolt d'Oro atop the roster of individual betting interests in this week's second pool of Churchill Downs' 2018 Kentucky Derby Future Wager (February 7-9). Then there is the issue of the ever-popular Mutuel Field or "All Others" which will likely be the wagering favorite for the pool that kicks of its three-day run on Friday, Feb. 9.
The Kentucky Derby Future Wager enables fans to bet on possible contenders for the 144th running of the Kentucky Derby Presented by Woodford Reserve at Churchill Downs well in advance of the May 5 running of America's greatest race. Odds on horses in the four KDFW pools could be more attractive than those available on the day of the race. Each wagering pool features 24 vetting interests that consist of 23 individual horses and the "All Others" interest, which includes all 3-year-old Thoroughbreds other than the pool's individual horses.
The wager is $2 minimum bet and is a win wager only. Pari-mutuel payouts on winning tickets on Kentucky Derby Day will be determined by the final odds in each respective pool. Each pool also includes a minimum $2 exacta wager that requires bettors to correctly choose the top two Derby finishers in the exact order of finish. The exacta is also a $2 minimum bet, with exacta boxes available in $1 increments. Wagering will open at noon (EST) on Friday at Churchill Downs and racetracks and satellite wagering centers across North America and online at TwinSpires.com and other wagering platforms. Wagering will conclude on Sunday, Feb. 11 at 6 p.m. (EST).
The wagering interests in Kentucky Derby Future Wager Pool 2 are Audible (#1, 12-1), Avery Island (#2, 20-1), Bolt d'Oro (#3, 10-1), Catholic Boy (#4, 20-1), Combatant (#5, 50-1), Copper Bullet (#6, 50-1), Enticed (#7, 30-1), Firenze Fire (#8, 30-1), Free Drop Billy (#9, 20-1), Good Magic (#10, 10-1), Instilled Regard (#11, 30-1), Mask (#12, 12-1), McKinzie (#13, 8-1), Mendelssohn (#14, 30-1), Montauk (#15, 20-1), Mourinho (#16, 12-1), Principe Guilherme (#17, 30-1), Retirement Fund (#18, 30-1), Solomini (#19, 20-1), Sporting Chance (#20, 50-1), Strike Power (#21, 20-1), Tiz Mischief (#22, 30-1), Untamed Domain (#23, 30-1) and "All Others" (#24, 7-2).
Seven of these horses that were not in the November, 2017 opening pool are Audible, Catholic Boy, Combatant, Instilled Regard, Mourinho, Retirement Fund and Strike Power.
There are no scratches or refunds in the Kentucky Derby Future Wager. Should Churchill Downs officials determine during the three-day run of Pool 2 that a wagering interest has suffered an injury or other circumstance that would prevent that horse from competing in the Kentucky Derby, wagering on that interest will be immediately suspended.
Real-time odds and other information on the Kentucky Derby Future Wager, including free past performance information from Brisnet, is available at the official Kentucky Derby event web site at www.kentuckyderby.com.
The opening Kentucky Derby Future Wager pool of 2018 was conducted Nov. 23-26. Pool 3 is set for March 9-11 and the year's fourth and final pool will run from April 6-8. The lone Kentucky Oaks Future Wager pool will coincide with KDFW Pool 3 during its March 9-11 run.
Tags: 2018 Kentucky Derby Future Wager, All Others, Audible, Avery Island, Bolt d'Oro, Catholic Boy, Churchill Downs, Combatant, Copper Bullet, Enticed, Firenze Fire, Free Drop Billy, Good Magic, Instilled Regard, Kentucky Derby, Mask, McKinzie, Mendelssohn, Montauk, Mourinho, Principe Guilherme, Retirement Fund, Solomini, Sporting Chance, Strike Power, Tiz Mischief, Untamed Domain
Comments