Kentucky Derby Museum welcomes five new Board members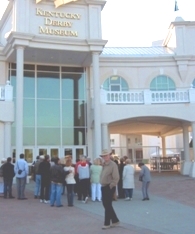 Kentucky Derby Museum welcomes five board members with diverse and impressive backgrounds, including powerhouse entrepreneur Eden Bridgeman Sklenar; Thoroughbred owner Jill Baffert; award-winning sports journalist Gene McLean; and Bill Beam, former finance director for Governor Paul Patton. Returning to the board after serving in previous years, is Todd Spencer, President & CEO of Doe-Anderson, a prominent advertising and public relations firm in Louisville.
Jill Baffert is a former television reporter and anchor for WLKY-TV in Louisville. Currently, she is a stay at home mom and horse owner. She has owned several graded stakes winners including Misremembered, Contested and Maybellene. Baffert has served or currently serves on several boards including Old Friends, Thoroughbred Aftercare Alliance and the Parent Board of her son's school. Jill is married to horse trainer, Bob Baffert, and currently resides in California with Bob and their son, Bode.
Bill Beam has been a benefactor of the Kentucky Derby Museum for twenty years, while being a Churchill Downs season box holder and a member of the Churchill Downs Turf Club for over twenty-eight years. He is a direct descendant to several prominent Kentuckians, including Governor Isaac Shelby, United States Supreme Court Justice Thomas Todd, and two original master distillers including Jacob Beam. Beam currently serves on The Shelby Society Board of Directors and the Louisville Redevelopment Authority Board of Directors. Beam was an account executive in television and media for several years before joining Governor Paul Patton's office as finance director. Beam resides in Prospect with his wife, Monette. He has two adult children.
Eden Bridgeman Sklenar has been the chief marketing officer of Manna Inc. since 2017 and has been with the restaurant group since 2009. Bridgeman Sklenar oversees the marketing department and the local store marketing engagement of all company brands. She earned her MBA in Entrepreneurship at Loyola University Chicago-Quinlan School of Business.  Bridgeman Sklenar also serves as a Board Member and the Program Director for the Bridgeman Charitable Group since 2017, which produces The Trifecta; an annual Derby-eve black-tie celebrity charity gala in Louisville, Kentucky.  She is married to Greg Sklenar and is the daughter of Ulysses L. (Junior) and Doris Bridgeman.
Gene McLean is an award-winning sports writer, who started his career in 1977 as a sportswriter and columnist for the Lexington Herald-Leader in Lexington, Ky., and was recognized as one of the state's best writers, winning the prestigious "Sportswriter of the Year" honor in 1985. McLean is now the President and Publisher of The Pressbox, a website dedicated to covering the world of Thoroughbred racing and breeding. McLean is a conceptual founder of The Louisville Thoroughbred Society; a private, members-only club located in Louisville's downtown historic district in the Hughes Building for the Thoroughbred enthusiast and their guests.
"Kentucky Derby Museum had a stellar year. We completed a $6.8 million expansion and renovation in October 2018, and have seen attendance skyrocket 11% over the previous fiscal year," said Pat Armstrong, President & CEO of Kentucky Derby Museum. "Our Museum is growing because of our board supporting decisions that are in the best interest of our development. I am confident the incoming board members will bring fresh perspectives and ideas to keep the momentum rolling at Kentucky Derby Museum."
Additionally, two current Board Members are serving in new roles. Moving into the Board Chair position is Chris Whelan, Vice President of Communications at LG&E. Glenn Haygood, President & General Manager at WLKY-TV, now serves as Vice Chair.
Kentucky Derby Museum, a non-profit organization, is governed by a 21 person Board of Directors, committed to the highest standard of business ethics. The Museum Board monitors Museum operations, provides financial oversight, and helps guide the growth of the Museum. The new Board members will serve a three year term.
Kentucky Derby Museum Press release
Comments