Kentucky Derby Tours visits Darley Farm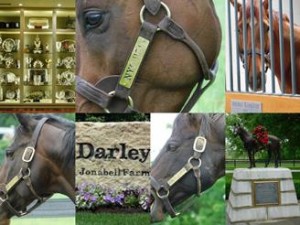 One of the highlights of this years Kentucky Derby Tours was our visit to Darley Farm during Derby week this year. It was so exciting to see Medaglia d'Oro. At the 2017 Breeders' Cup held at Del Mar Racetrack this year, two of the Breeders' Cup winners were sired by Medaglia d'Oro. As the leading sire by number of grade/group 1 winners this year with seven, Medaglia d'Oro will have his 2018 stud fee raised to $250,000.
Talismanic in the Longines Breeders' Cup Turf (G1T) and Bar of Gold in the Breeders' Cup Filly and Mare Sprint (G1) put Medaglia d'Oro over all other North American sires by number of elite winners. His other grade 1 winners this year include 2-year-old Bolt d'Oro, 3-year-olds New Money Honey and Elate, turf mare Dickinson, and the brilliant champion Songbird, who topped the Fasig-Tipton November sale Nov. 6 when she sold to Mandy Pope for $9.5 million.
In graded racing history, the only other American stallions to have as many as seven grade 1 winners in a single year are Mr. Prospector, Danzig, and Storm Cat.
"Even before the Breeders' Cup, the demand for Medaglia d'Oro was extremely high," said Darren Fox, nominations sales manager at Darley in America. "After the wins by Bar Of Gold and Talismanic… we feel it incumbent on us to listen to what the market is telling us and adjust his fee accordingly. We have always set our fees at fair and competitive levels and we think that this is certainly in line with that historical approach."
The $250,000 fee will apply to a limited number of remaining seasons. Medaglia d'Oro stood for $150,000 in 2017.
Comments