Kentucky Derby winner Mine That Bird returns to Kentucky Derby Museum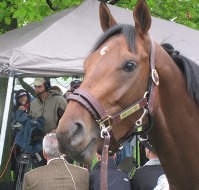 The Kentucky Derby Museum has confirmed that 135th Kentucky Derby winner Mine That Bird will return to greet fans at the Kentucky Derby Museum this spring. HOT off the presses in a new press release, the Kentucky Derby Museum said that the 2009 longshot will return to the museum for about three weeks to promote the upcoming film "50 to 1" which is based on the eight-year-old gelding's shocking upset victory in the Derby five years ago.
On Thursday, April 17th at 10:00 a.m., a press event for the "50 to 1" movie http://www.50to1themovie.com/ will take place in the museum's Great Hall (museum guests are invited to watch with paid admission) followed by media photo-ops with the movie team, real members of the 2009 Derby winning team and Mine That Bird in the museum's stable area.
"50 to 1" opens in Kentucky theaters on April 18th, directed by Jim Wilson with key roles of trainer and owner played by actors Skeet Ulrich (As Good As It Gets, The Newton Boys and Chill Factor) and Christian Kane (Taxi and Friday Night Lights) respectively. Jockey Calvin Borel plays himself in the film.
At 11:30 that morning, the museum will host a free poster signing and meet and greet with fans in the museum's back garden tent. Mine that Bird will be available for guests to see at the same time until 4:00 p.m. that day.
On Friday, April 18th, Mine That Bird will ship to Keeneland for an appearance at the track before the races and he will be available for fans to see at the Kentucky Derby Museum's "It's My Derby" event hosted at Keeneland that evening, along with 2003 Kentucky Derby winner Funny Cide. http://www.derbymuseum.org/2014-itsmyderby.html
Mine That Bird will return to the Kentucky Derby Museum's garden area on Saturday, April 19th and remain until May 10th. He will be available to guests with paid, museum admission. His appearance is made possible only with the help and generosity of his owner Mark Allen of Double Eagle Ranch in Roswell, New Mexico and Dr. Leonard Blach of Buena Suerte Equine. Bird earned $2,228,637 during his career with his Derby win, a second place finish in the Preakness Stakes behind champion filly Rachel Alexandra and a third place effort behind Summer Bird and Dunkirk in the Belmont Stakes. All horse racing fans are invited!
Comments