Larry Collmus named track announcer for Churchill Downs
When Churchill Downs Racetrack unveils its 15,224 square foot LED "Big Board" and an enhanced audio system on the "Opening Night" of its April 26-June 30 Spring Meet, a new voice will be calling the action according to a press release.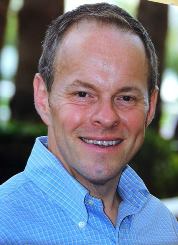 Larry Collmus, one of the premier race callers in North America and the world of Thoroughbred horse racing, will be on the microphone as the seventh announcer at the historic home of the Kentucky Derby starting with the first race of the "Opening Night" program on Saturday, April 26 that launches Kentucky Derby and Longines Kentucky Oaks Week.
The 47-year-old Collmus, a veteran of nearly three decades of calling races in a career that started at the age of 18, will continue his duties as the race caller for NBC Sports on its telecasts of the Triple Crown – the Kentucky Derby, Preakness and Belmont Stakes – and the Breeders' Cup World Championships.
With his on-track and on-air call of the 140th Kentucky Derby on Saturday, May 3, Collmus will join a small and elite fraternity of track announcers for the Kentucky Derby, Kentucky Oaks and Churchill Downs racing that includes Johnson (2009-2013), Kruytbosch (1999-2009), Kurt Becker (1997-1998), Mike Battaglia (1978-1996), Chic Anderson (1961-1977) and Gene Schmidt, the first Churchill Downs announcer who called the Derby for on-track audiences from 1940-1960.
Collmus will join the legendary Anderson and Kentucky-born Battaglia as the only announcers to provide the Kentucky Derby call for both the on-track audience and the Derby's network television partner.
Along with his television duties as the NBC Sports voice of the Triple Crown and Breeders' Cup, Collmus currently serves as track announcer for the premier winter meet at Gulfstream Park and will continue those duties at the Hallandale, Fla. track after he takes on his new post at Churchill Downs for the Louisville track's Spring, September and Fall Meets. Collmus has also called races for the past 20 years at Monmouth Park in Oceanport, N.J.
NBC Sports hired Collmus to be its voice of the Kentucky Derby and Triple Crown in 2011 following New York Racing Association announcer Tom Durkin's decision to step down from that role. He added the Breeders' Cup Championships to his television duties for NBC the following year.
"I am both thrilled and honored to become the voice of America's most famous race track," Collmus said. "Having called the Kentucky Derby three times for NBC Sports, I have experienced the magical ambience of Derby Day, and can't wait to be a part of that for Churchill Downs. I am looking forward also to becoming a part of this terrific city, which has an incredible passion for our sport.
"Although Churchill Downs is best known for the greatest two minutes in sports, it's an amazing venue for great racing in the spring, September and fall, and I'm excited about calling those races as well. I am very happy to continue my roles as voice of the Triple Crown and Breeders' Cup for NBC Sports, as well as calling the races during Gulfstream Park's winter championship meet."
Tags: 140th Kentucky Derby, Belmont Stakes, Breeders' Cup, Breeders' Cup Championships, Chic Anderson, Churchill Downs, Fla., Gulfstream Park, Hallandale, Kentucky Derby, Kentucky Oaks, Larry Collmus, Longines, May 3, Mike Battaglia, Monmouth Park, NBC Sports, Preakness, Saturday, thoroughbred horse racing, Tom Durkin, track announcers, Triple Crown
Comments